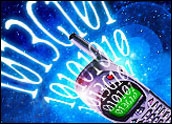 In the highly competitive cellular marketplace, carriers are always on the lookout for an edge, a way to differentiate their services from their competitors' offerings. Somewhat surprisingly, for more than a decade, Nextel has been able to use one enhanced service, Push-to-Talk (PTT), not only as a differentiator but also as a way to prop up its revenue and margins. That may soon change, however, as other carriers are now poised to deliver similar services.
PTT is a service where two users can press a button and instantly begin talking to one another rather than having to go through the typical call setup process. Users like the service because they have the ability to instantly communicate with one another, and carriers are interested in it because it can help generate more revenue and lower customer churn.
PTT has been available as Nextel's DirectConnect service since the company began operating. Initially, the feature was limited to small user groups, say a company or a department. Nextel enhanced the service so that individuals could communicate with anyone within a certain geographic region, for example within a city or an area inside a state, and it upgraded its network with national DirectConnect features in 2004.
Push-to-Talk Makes Money
The service has proven beneficial to Nextel. "Nextel has had the highest ARPU (Average Revenue Per User) in the industry, and one of the reasons is so many of its users take advantage of its Push-to-Talk service" said Becky Diercks, an analyst with market research firm In-Stat/MDR. ARPU is important because carriers want customers to purchase value added services and increase carriers' revenue and profit margins. Customers pay as much as US$70 per month for Nextel's services while competitors generate $50 to $62 per customer per month.
PTT can also be a differentiating feature: In-Stat found that one-third of cellular users would consider switching carriers in order to be able to use PTT. That's important because interest in the service is expected to rise: In-Stat expects the number of U.S. subscribers to grow from 16.8 million at the end of 2004 to 33.6 million at the end of 2009. While the majority of growth will come from continued expansion in the business market, the market research company expects moderate uptake in the consumer market, especially among younger users.
Competitors have been slow to respond to Nextel's service for a few reasons. "Most carriers focused on the consumer market where PTT is not a major factor," noted Bob Egan, president of consulting firm Mobile Competency Inc. "Nextel has always concentrated more on the business market and that is where the service has garnered the most acceptance."
Nextel's Network iDENtity
Network design has been another factor. "Nextel made a significant investment in Motorola's iDEN (Integrated Digital Enhanced Network) technology and that enabled the company to deliver PTT services," said Dan Baker, director of OSS research at market research firm Dittberner Associates. Motorola's proprietary network features were designed to support business functions, such as alphanumeric paging, faxing, and data services.
Other carriers have tried to mimic Nextel's DirectConnect service. "Verizon and Sprint tried to deliver PTT features, but there was too much latency on their networks so it was not widely embraced," Mobile Competency's Egan told TechNewsWorld.
Speed has been one of the attractions of the Nextel system. Customers have lists of DirectConnect users programmed into their handsets that they can connect to immediately by highlighting a name and pushing a button, or users can initiate group DirectConnect calls by highlighting multiple names. Once a user pushes a button, in a matter of milliseconds the person he or she is trying to contact receives that information and chooses to accept or ignore the call.
Movement to PTT Standards
Recently, handset manufacturers such as Ericsson, Nokia, and Siemens, and some carriers have been working on standards that will enable them to deliver similar services.
"Carriers have been moving to third generation networks that are better able to support PTT," noted Mobile Competency's Egan. Carriers including AT&T Wireless, Cingular, Sprint PCS and Verizon Wireless have all shown interest in these 3G services. Theoretically, they could offer PTT services that ran over multiple networks while Nextel's services would only operate over its network.
Despite this analysts expect Nextel, which announced in December plans to merge with Sprint this year, to retain its lock on the market during the next few years. "Nextel has been focused on PTT, has more experience and a much larger customer base than any of the other carriers," In-Stat's Diercks told TechNewsWorld.
But the market for the service is expected to change. As PTT services become more widely available, they will move from value-added to mainstream service, and the profit margins from PTT are likely to decline. In order to attract more customers, carriers are expected to lower their PTT pricing and eventually they may include it as part of their basic services — they have followed similar paths with services, such as Caller ID and voicemail.
Such changes would hurt Nextel. "Nextel has invested more in PTT than any other carrier and therefore has to more to lose than anyone else if it becomes a commodity," noted Mobile Competency's Egan. The realization that PTT is evolving from value-added to mainstream function may have been on the reasons why Nextel is the process of merging with Sprint PCS.
While PTT's evolution my have some downsides for Nextel, its evolution should benefit users. "There are a number of businesses and consumers who see the value of PTT but haven't found it to be as effective as they would like, something that may change in the coming months as more carriers focus on these services," concluded In-Stat's Diercks.