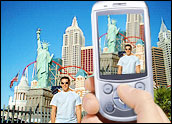 Streaming mobile video service Qik opened its doors to all comers Monday, moving from the invitation-only alpha it began late last year to an open beta program. The company also announced a bevy of new features, distribution partners and support for more mobile handsets.
With Qik (pronounced "quick") software, members can stream video directly from their mobile handsets to the Web. They can stream videos to contacts on sites such as Facebook and Twitter or use a mobile phone as a camcorder to capture and post videos of events.
"There are never too many things you can imagine to do with a cell phone. It's a very interesting concept because it fits into the idea of sharing. It fits into the next evolution of the social norm with people putting their stuff on Facebook and MySpace. It's definitely an interesting idea," Anton Denissov, a Yankee Group analyst, told TechNewsWorld.
Mobile Streaming
Opening the service for a public beta means users with supported devices can sign up and begin streaming immediately and are no longer subject to approval from Qik staff.
Qik launched a new player designed to be more aesthetically appealing and include new functionalities. Users can now view thumbnails of all the videos posted by an individual and play them directly from there. They can also chat from within the player.
Latency has been reduced to between 1.5 and 3 seconds. Users can now subscribe to Qik from an RSS (really simple syndication) reader on their phone or Nokia's podcasting application on Nokia handsets. When they subscribe to a favorite Qikker, users will receive feeds directly to their mobile phones and can play the videos directly from the readers.
The enhancements the company is rolling out for the beta make it easier for users to designate recipients of their streaming videos. The new Groups feature enables members to create groups and micro-communities to which they can stream their videos. Meanwhile, with Events, users can create their own event, whether it's a family cookout or a corporate function, and invite others to join the event.
The service is now linked to Facebook, MySpace and Orkut, so users are able to stream live video on the social networking sites. Broadcasters can chat directly with viewers on Facebook. Other advances include the addition of support for Symbian and Windows Mobile devices on GSM and CDMA networks. That covers multiple carriers, including AT&T, T-Mobile, Verizon and Sprint.
Business Questions
The idea behind Qik is interesting, Yankee Group's Denissov said. However, the technology also stirs up concerns about how to monetize the service, how to encourage users to use the service and how to address privacy concerns.
"I can understand the concept of streaming video of yourself. There is definitely a sub-culture of people, especially in younger demographics, that wants to stay connected 24/7," he commented.
However, streaming one's life 24 hours a day, seven days a week could create privacy issues, as unsuspecting friends, coworkers or even strangers find themselves featured in these videos that are then posted online.
"Privacy is definitely a concern, but there are [legal] concerns as well. What if you stream video of a minor? It's an interesting idea, but Qik will have to reconcile this quickly," Denissov said.
Another potential issue is the cost of streaming content from a mobile phone. If it catches on, mass streaming of this sort will tax carriers' data networks and also put a strain on users' wallets as they pay for the data transfers.
"Consumers are already paying for the service when they stream video from their cell phone. That's fairly expensive. And [as] this kind of video-sharing, video chatting and watching video on your cell phone becomes more popular, [it] will tax the networks because they aren't built for this. They were built for voice, not these huge video files," he said.
As the networks become more congested, Denissov said he foresees an increase in fees, charges and limits from operators.
The biggest question for Denissov is how Qik will monetize its service. Advertising is one way for the service to generate revenue, but online businesses have struggled to get viewers to watch ads for network programming such as "Heroes" and "Lost," much less user-generated video.
Hosting sites for vendors such as Honda, which could post video of its robot Asimo and then charge viewers to watch the machine's antics, is another option.