Gaming has come a long way since the days of Pong and Space Invaders, evolving from simple pixelated graphics and limited gameplay to immersive cinematic experiences that rival blockbuster movies.
While gaming on traditional PCs and consoles has been the norm for decades, a seismic shift is happening in the gaming industry. Mobile devices are quickly rising to prominence and becoming the preferred platform for gamers worldwide.
The ideal mobile gaming device hasn't been created yet, but we have a good idea of its probable components. It appears that either AMD or Qualcomm will provide the core technology.
Qualcomm's Snapdragon G series attempts to embrace game-focused handhelds across the price spectrum. The company will offer processors it hopes can drive gaming handhelds ranging from inexpensive cloud-only devices to portable powerhouses.
This intelligent, Goldilocks-like strategy allows Qualcomm to address the multiple segments and customer needs within the mobile gaming device market.
Qualcomm's Mobile Gaming Advancements
For the top-of-the-line G3x Gen 2 chipsets, the processors are intended to offer the swankiest features and performance and have reached the reference design stage. A reference design falls somewhere between a proof-of-concept and a tool provided to manufacturers to help them create their products. For example, Razer used a first-generation model of the G3 for its Razer Edge.
Qualcomm's new chipsets are geared for top-tier mobile games and other demanding, heat-generating titles you wouldn't want to inflict on your phone. Specifically, they offer:
Active cooling to manage heat generation
Hardware ray tracing for realistic visuals
Haptics for an immersive, tactile experience
Game upscaling to improve graphical fidelity
XR glasses tethering for extended reality experiences
The latest Bluetooth version for minimal latency audio connections
High-speed Wi-Fi 7 and 5G networking for seamless online gameplay
In addition, breakthrough illustrations imply the CPU supports two 3,000mAh batteries for extended play time and expandable storage to accommodate larger game files.
During recent calls, Qualcomm revealed that it is only in talks with OEMs whose names most people probably wouldn't recognize. It has no high-profile partners lined up yet, though Samsung always lurks in the background.
Qualcomm's chipset advancements are promising, but what does this mean for the market and potential partnerships?
It's All About Market Segmentation
Qualcomm is broadening its lineup of processors for dedicated gaming handhelds into three chips to cater to a more extensive range of devices and price points.
The company is bringing out G1 and G2 chips for less expensive devices primarily focused on streaming games from the cloud and other devices, while the flagship, the Snapdragon G3x, is receiving a bump to a second generation. All these chips target Android-powered portable devices.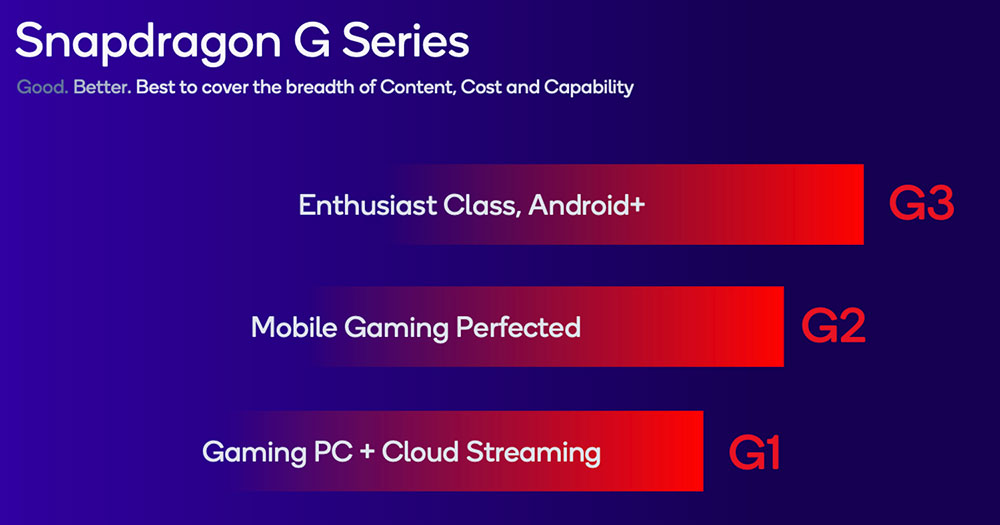 (Image Credit: Qualcomm)
---
The announcement is restricted to chip specifications and coincides with the Gamescom trade event in Cologne, Germany. Qualcomm says its partners will soon reveal the products using the chips and their prices. In a press statement, Qualcomm expressly mentioned collaborating with Aya Neo, Taiwan-based Inventec, Chinese device maker Huaqin, and Thundercomm, which is typically known as an IoT provider and is half-owned by Qualcomm.
Qualcomm's G3x Gen 2 reference design is somewhat similar to what the company first introduced with the G3, albeit a tad boxlike. Plugged in and wearing a pair of XR glasses provides a glimpse into the future, which gives greater immersion and comfort due to the ability to see forward, which is far more comfortable for extended periods than looking down.
Qualcomm's Legacy Leadership in Mobile Device Gaming
Qualcomm and AMD control the mobile market almost entirely. The pricey Xbox Series X|S and PS5 gaming consoles and handhelds like the Valve Steam Deck and the brand-new Asus ROG Ally all use AMD's Ryzen processors.
If it runs Android, there's a reasonably high probability the internal chip is a Qualcomm Snapdragon. Of course, most are smartphones, but other examples include the Logitech G Cloud and the Razer Edge.
Nintendo uses a lightweight, proprietary operating system, and games are confined to operate within the performance restrictions. Take the Nintendo Switch: It's a relatively old portable still outfitted with an Nvidia Tegra X1 — a chip that debuted in 2015. It's anyone's guess whether this situation remains the same when Nintendo finally announces the Switch 2.
Back to the Goldilocks attribute of Qualcomm's approach: Qualcomm is providing the Snapdragon G1 for devices at that end of the market (presumably under $200) that are primarily designed to stream games locally, much like how PlayStation's Portal (formerly Project Q) is just a convenient remote way to play games running on your PS5 or to play games in the cloud with services like GeForce Now and Xbox Game Pass Ultimate.
When playing games via streaming, the Snapdragon G1 device processes input and output while decoding video so that it won't become too hot. They are, therefore, made for fanless designs, have minimum input lag, and are battery-life optimized. It's Wi-Fi only, which helps keep the cost down, but it's disappointing that it's Wi-Fi 5, as Wi-Fi 6 and higher or 5G would be more desirable for this use case.
The Snapdragon G2, positioned in the middle, adds native mobile games to cloud gaming and better networking, including Wi-Fi 6/6E and 5G.
The Snapdragon G3x Gen 2 is the latest flagship. It will use an Adreno A32 GPU and an 8-core Kryo CPU from Qualcomm. The CPU cores on each chip are similar. However, it has excellent connectivity options, such as Wi-Fi 7, mmWave, 300 MHz sub-6 5G, and Bluetooth 5.3. It is also the only chip in the stack that provides camera support and ray tracing.
Qualcomm's new flagship G Series offers a substantial performance improvement versus its previous generation and gets closer to desktop-like gaming performance in a handheld device. (Image Credit: Qualcomm)
---
With a CPU that is "over 30%" quicker, Qualcomm boasts that the G3x Gen 2 features a GPU that is more than twice as fast as the previous version. The results are slightly muddled, but according to Qualcomm's charts, performance on Genshin Impact, Geekbench, and various graphical benchmarks is better this generation than last.
However, to gauge sustained performance, it tested against the Snapdragon 8 Gen 2, a flagship found in mobile phones rather than game consoles.
While Qualcomm solidifies its position, it's essential to understand how its products fit into the larger landscape of gaming devices, especially when compared to other key players like AMD.
Closing Thoughts
The previous time Qualcomm tried to produce processors for this kind of device, there was only one chip, which was enthusiast-level. One popular system, the Razer Edge, was the only one to receive the G3x Gen 1. Razer doesn't seem to be on board for a sequel at present, although the company may make an announcement later.
The Logitech G Cloud, a cloud gaming handheld powered by Qualcomm's Snapdragon 720G, has garnered mixed reviews. It will be interesting to see what types of handhelds, at what price points, and with what features these new CPUs eventually appear.
With a focus on desktop operating systems and the raw power of AMD APUs to play games locally and the possibility to stream through web browsers, systems like the Steam Deck and Asus ROG Ally are adopting a different approach.
The original G3x might have been just a bit ahead of the curve. The overall demand for Android-based, streaming-focused gadgets is still somewhat unclear. But at least Qualcomm's new portfolio will give device makers additional choices, and that's a very good thing.
While PCs and consoles get a lot of media attention, mobile devices are well-positioned to gain in popularity for gaming due to their accessibility, affordability, portability, diverse game libraries, and the dynamic nature of the gaming market. The industry's continuous evolution and the unique benefits mobile devices offer to drive this shift.
While traditional gaming consoles and PCs will always have their dedicated fan base, it's clear that mobile gaming is here to stay and will continue to shape the gaming industry's future.
Whether you're a casual gamer or a hardcore enthusiast, mobile gaming has something to offer, and its influence is poised to grow in the years to come. Looking at this announcement from that perspective, Qualcomm is well-positioned to maintain its leadership status in the mobile device gaming category.