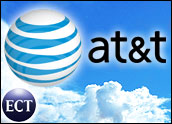 Wireless handset users looking for a little more style than the usual black and silver need look no further than AT&T, which announced Monday the immediate availability of the BlackBerry Pearl and Palm Treo in shades of red.
Research In Motion's BlackBerry Pearl is now available from all AT&T (formerly Cingular) stores in a dark ruby red, while Palm's Treo 680 is available at select outlets in crimson. The red Pearl is the first wireless handset to be branded for the new AT&T.
"The new red BlackBerry Pearl and crimson Palm Treo 680 are the next 'gotta have it' wireless handsets from AT&T," said Michael Woodward, executive director of mobile professional solutions for AT&T. "The additional choices of color offer panache and style, and these world-class products boast all of the features that made the original versions very popular."
Like a Rose
Like its black and white siblings, the red BlackBerry Pearl smartphone measures just 4.2 inches x 1.97 inches x .57 inches and weighs 3.1 ounces. Originally released last fall, it offers phone, e-mail, Web browsing capabilities, a 1.3 megapixel digital camera, an MP3 player and video functionality. BlackBerry "push-based" service gives users synchronized access to both personal and corporate e-mail accounts along with the ability to view attachments and to manage multiple e-mail accounts on the go.
The crimson Palm Treo 680, meanwhile, is a compact, full-featured mobile phone with an MP3 player, digital camera, camcorder and video player. It sports a built-in QWERTY keyboard and supports a variety of e-mail platforms.
Both the Treo 680 and BlackBerry Pearl can also be outfitted for GPS capabilities with a Bluetooth-enabled GPS receiver, sold separately. Pricing on each phone after rebates is US$200 with a two-year contract.
Red Hot
"This gives them some pizzazz, and that's what the market seems to like lately," Neil Strother, wireless analyst with JupiterResearch, told TechNewsWorld.
Wireless devices are very personal items, Strother noted, and many users look to them for differentiation as well as fashion and a way to make a personal statement. Personal ring tones are one way to achieve that, and now color is becoming another.
"A lot of users want personalization and identification. They're tired of black and silver, and red is a very flashy color," Strother added.
"Red is a powerful color," agreed Ramon Llamas, an analyst with IDC Research.
"It's a question of style and taste," Llamas told TechNewsWorld. "They're trying to branch out to fashion-conscious users, people who want something different."