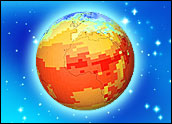 The northeastern United States will suffer severe consequences from global warming if efforts are not made to stop it soon, according to a new report that focuses on the impact of warming on the region.
New England and surrounding states are traditionally known for their dramatic seasons and picturesque terrain, but if climate change hits as it is expected to, the result will be a very different place, warns theNortheast Climate Impacts Assessment (NECIA), a two-year collaboration between theUnion of Concerned Scientists (UCS) and a team of more than 50 scientists and economists.
Cool weather, plentiful seafood and snowy ski slopes will give way to increased temperatures, frequent coastal floods, sharply limited agriculture and virtually nonexistent winter recreation, the report's authors found.
"Global warming represents an enormous challenge, but we can meet it if we act swiftly," said Peter Frumhoff, director of science and policy at UCS and chair of the NECIA team. "Our response to global warming in the next few years will shape the climate our children and grandchildren inherit."
Two Scenarios
The peer-reviewed report builds on NECIA's 2006 study that describes how the climate of the nine Northeast states will change under two scenarios: one that assumes an increase in global warming emissions from continued heavy reliance on fossil fuels, and another that assumes substantially lower emissions due to an increased reliance on clean energy sources.
The two scenarios lead to dramatically different results. Winter temperature increases, for example, would be between 8 and 12 degrees by the end of this century in a high-emissions scenario, but only 5 to 8 degrees should emissions be substantially reduced.
For winter recreation, only western Maine would retain a reliable ski season by the end of the century if emissions were to remain high, the report predicts. With the lower-emissions scenario, however, reliable skiing conditions would also be likely in the North Country of New York and parts of Vermont and New Hampshire.
One More Piece of Evidence
"This shows that the effects of global warming are real, they're happening now, and they will get worse if we don't do something soon," Sierra Club spokesperson Josh Dorner told TechNewsWorld. "It's also one more piece of evidence that the costs of not fighting global warming will be much higher than any costs we incur trying to stop it."
Making that lower-emissions scenario the reality, or even surpassing it, will depend on sustained efforts to reduce emissions in the region, the report concludes. Specifically, the northeastern states must reduce their emissions by about 80 percent below 2000 levels by mid-century, or roughly 3 percent per year on average over the next several decades.
Indeed, raising fuel-economy standards and setting a national renewable electricity standard are the two biggest intermediate steps that should be taken, agreed Dorner.
Efforts Under Way
Many northeastern states have already adopted renewable electricity standards requiring utilities to obtain a certain percentage of their power from clean, renewable sources such as wind, solar and biomass. Several have also embraced California's stricter vehicle tailpipe emissions limits and have joined theRegional Greenhouse Gas Initiative (RGGI), the firstmultistate, market-based plan to reduce heat-trapping emissions from power plants.
Ultimately, the nation needs a long-term declining cap on emissions, Dorner said.
"The president has long recognized that climate change is a serious issue, and he has committed the U.S. to advancing and investing in the new technologies to help us address this problem," Kristen Hellmer, a spokesperson for the Executive Office of the President Council on Environmental Quality, told TechNewsWorld.
"The U.S. is well on track to meet, if not exceed, the President's goal to reduce greenhouse gas intensity of our economy 18 percent by 2012," she asserted.
Old King Coal
Many fear, however, that current efforts fall far short of what's needed.
"They are right that we need to make fundamental changes in direction during the next few years, so that emissions will be headed downward within a decade," James Hansen, a climate scientist and director of NASA'S Goddard Institute for Space Studies, told TechNewsWorld.
However, "the most important action needed is a moratorium on new coal-fired power plants until technology is ready for carbon capture and sequestration," he stressed. "Otherwise, new coal plants will wipe out all the good deeds that people achieve."