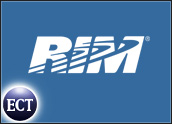 A Storm is coming to Verizon Wireless, and it may have the features and functionality to pose a significant challenge for Apple and the iPhone 3G.
The carrier unveiled a new touchscreen smartphone Tuesday from Research In Motion, the BlackBerry Storm.
"This is an important, important device. It shows how RIM is attempting to expand its market from the corporate enterprise blue pin-striped suit to focus on a larger audience that wants to take advantage of these high-end devices," said Michael Gartenberg, vice president Mobile Strategy at Jupitermedia/Mobiledevicestoday.com.
RIM's play for the consumer market covers a range of devices and carriers. It has the Pearl Flip with T-Mobile, a lower-end device designed to appeal to someone going from a feature phone to a smartphone. With the Storm, the hardware maker is clearly making a grab for a piece of the higher-end touchscreen market.
"Just putting a touchscreen on a phone doesn't mean success or that you'll even tap into the iPhone enthusiasm. What [RIM] is doing is putting their own spin on it; keeping the focus on what it has typically done best and providing a differentiated experience," Gartenberg told TechNewsWorld.
"And of course, this is a really good device for Verizon to have since they don't have an iPhone or Android device at the moment and can tap into a different segment of the market that may be interested in this device," Gartenberg added.
Touching the Storm
Perhaps the most talked-about feature on the new Blackberry Storm is its 3.25-inch touchscreen with 360 by 480 resolution. Although a bit smaller than the iPhone's 3.5-inch screen, the Storm offers something that Apple's handset does not — tactile feedback.
Touch technology for the iPhone, Samsung's Instinct, and several other such phones involves little more than tapping on the screen and waiting for the device to respond. If the tap missed the mark or did not register, users cannot determine that by touch alone.
With the Storm, however, RIM has developed touch technology that gives slightly when a user touches the screen. Owners will feel the screen being pressed and released with a soft click, akin to the feeling of a key on a physical keyboard or a button on a mouse being depressed. It's intended to provide positive confirmation that users have made a selection.
The touchscreen also supports multi-touches, slides and other gestures that enable users to scroll, pan and zoom while using the device.
As with the iPhone, the Storm also features a built-in accelerometer so that users can automatically switch between landscape and portrait modes. Changing the screen's orientation also alters the handset's keyboard. In portrait mode, users will have access to RIM's SureType keyboard layout. Holding it horizontally in landscape mode will bring up a full QWERTY keyboard layout.
High Winds
The Storm offers a full browser that also functions in landscape or portrait modes. Along the bottom of the display screen, icons enable users to access to Web sites, switch between Page View and Column View and also move between Pan mode and Cursor mode.
The browser also supports file downloading, streaming audio and video and includes built-in RSS (Really Simple Syndication) support. As with every BlackBerry device, the Storm supports personal and corporate e-mail and text (SMS), picture (MMS) and instant messaging on most consumer and enterprise platforms.
Other features on the handset are the 3.2-megapixel camera with variable zoom, auto focus and a flash; 1 GB of onboard memory storage and a microSD /SDHD memory card slot for up to 16GB of additional storage. It also has built-in GPS that supports location-based applications and services, Verizon said.
Unlike the HTC's and T-Mobile's G1, the Storm sports a 3.5mm stereo headphone jack. It also supports Bluetooth stereo audio profile and has dedicated volume controls. The handset comes preloaded with DataViz Documents to Go to allow users to edit Microsoft Word, Excel and Powerpoint files.
The latest offering from RIM will run on Verizon's high-speed 3G Evolution-Data Optimized (EV-DO) Revision A network in the U.S.
Corporate Killer
Touchscreens have been found on new offerings from many manufacturers since the arrival of the iPhone, but Gartner Research analyst Tole Hart does not see the Storm as an "iPhone killer."
"If you're interested in a touchscreen and a Verizon customer or a BlackBerry user, especially in the enterprise … then it is probably a good product. But if somebody wants an iPhone, I don't know that it will stop them from buying it," he told TechNewsWorld.
With RIM's heavy focus on corporate users, it's difficult to discern whether any phone it puts out will really steal Apple's thunder.
"What this will do is kill the iPhone for big companies or blunt the [momentum] of the iPhone into big corporations," Bill Hughes, an InStat analyst, told TechNewsWorld.
Once the Storm is released, large companies will no longer have to authorize the iPhone because they will have a solution from BlackBerry that gives users much of what the iPhone does, he continued.
"When an IT manager gets a request from someone that they want to put an iPhone on the network, the IT manager can say 'what can you get on the iPhone that you cannot get on the Storm?' And the answer will be nothing but consumer features," Hughes explained.
Businesses are already familiar with RIM, so they will not be concerned about putting the device on their networks and possible security issues.
"Is it an iPhone-killer? Probably in the business market," Hughes added.