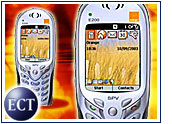 The simple ding-a-ling heard when an incoming call arrives is being replaced by a bevy of Top 10 tunes. Ring tones — simple notes or 30-second clips of popular songs — have emerged as a popular value-added data service for wireless carriers.
"One cannot underestimate the interest consumers, especially the youth market, have in personalized services," Ted Schadler, a vice president at market research firm Forrester, noted.
Spurred by the youth market, revenue for the service has skyrocketed, especially in countries like Japan and South Korea, where wireless data services have been adopted widely. The Yankee Group found that wireless telecommunication companies generated US$2.3 billion worldwide from ring-tone sales in 2003.
Only a small portion — $80 million — came from U.S. carriers, but interest here is rapidly rising. "Because ring tones are easy to understand and becoming simple to download, U.S. ring-tone revenue should pass the $1 billion in 2007," Adam Zawel, industry analyst at the Yankee Group, said.
Adoption of wireless services has come partly because wireless phones have become smaller and more functional. Not only are many devices now able to support video transmission but the range of audio output they can produce has been widening. As a result, ring tones come in different varieties.
A monotone service plays only a note or two, polytone services string a series of complex sounds together, and ring tunes mimic about 30 seconds of popular songs. Just about all cell phones can support monotone tunes, and more than half can reproduce songs like Nelly's "Pimp Juice" and Beethoven's "5th Symphony."
Surprise, Surprise, Surprise
While the allure of the technology seems simple to understand, acceptance did catch most carriers by surprise. "Wireless carriers have been experimenting — delivering a wide variety of data services and then watching to see which ones will stick," Forrester's Schadler told TechNewsWorld. "Sales of ring tones ramped up much faster than anticipated," he said.
The surprise factor has meant that carriers still need to enhance their offerings to make them more customer friendly. They are working on mundane items, such as making sure consumers can easily download ring tones and then be properly billed for the service. The suppliers are also focusing on service delivery by broadening their song base and making it easier for users to search their Web sites for desired tunes.
Distribution models are also a work in progress. Companies, such as Sprint and T-Mobile, have built their own online ring-tone distribution centers while third parties, such as InfoSpace and MidiRingTones, have emerged so carriers can offload that function.
Multi-Tiered Pricing Has Emerged
Furthermore, there has been pricing stratification: as carriers began to deliver sophisticated ring tones, pricing for monotone services dropped. "Consumers pay about $1 for the monotone services and $4 for songs from musical artists," Lewis Ward, an industry analyst with market research firm IDC, said.
The most complicated area involves working with record companies. "Digital-rights agreements for ring tones are not as highly evolved as they are for music downloads," Yankee Group's Zawel said.
At the moment, users are allowed to use the music clips only on their phones. Moving them to other devices represents a technical challenge for consumers, but one that they are expected to overcome soon. Yet currently, it is unclear whether music companies will encourage users to move ring tones to PCs or CD players.
Ring tones offer record companies many benefits, starting with the revenue generated. Ring tones represent a lucrative area: Users pay $4 for a 30-second clip compared to 99 cents for a complete song from a music-downloading site. Also, supporting ring tones will mean that songs are being heard more often, and consumers may buy the songs or others by the artist.
Dividing up the booty from ring-tone sales can be challenging. Music labels get 50 percent or more of the retail price when a CD is sold. That is too high a percentage in the wireless market because carriers are involved. They are making significant investments in their infrastructure (networks and billing systems) to support ring tones and are under pressure to make a profit, so they need a significant portion of the sale.
Consumer demand is another potential roadblock to ring tone growth. Forrester found that only 16 percent of users are interested in paying for ring tones, so the current projections about market growth may be too optimistic.
Another potential inhibitor is that products are emerging from companies like 7Soft and Tracebit that enable individuals to create their own ring tones. "A number of users already burn their own music and would like to create their own ring tones," IDC's Ward said.
Yo, Snoop Dog
Artists have been devising ways to skirt musical-rights issues. "Users can now buy a ring tune that says, 'This is Snoop Dog, I'm out, so leave a message,'" Ward told TechNewsworld. In this case, the artist is compensated for his or her name, but there are no rights fees given to the music company because no music is used."
Traditionally, value-added services become part of bundled telecommunications services. A few years ago, consumers were paying extra for voice mail, but today it is part of just about all services. "At this stage, I don't see how carriers or music labels could justify bundling ring tones in as part of a base service," Yankee Group's Zawel said.
So for at least the short term, cash registers as well as cell phones will continue to ring.