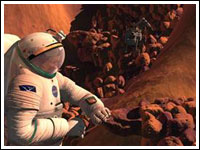 NASA is asking people to vote on their favorite design for the outer shell of the new Z-2 spacesuit.
While the Z-2 models may descend from their Apollo 13-style ancestors, there are some decidedly 21st Century twists. The "Biomimicry" design, for example, has a reptilian flare; "Trends in Society" has a more everyday look — at least, as far as spacesuits go; and "Technology" has electroluminescent wire and exposed rotating bearings, among other features.
The Z-2, an upgrade on 2012's Z-1, features a new hard composite upper torso, "providing much-needed long-term durability," according to NASA.
China Cracks Down on Text-Message Spam
Chinese authorities detained more than 1,500 people in a crackdown on spam sent to mobile phones via text message, a practice that is commonplace in China.
The anti-spam campaign targets fake telecommunication base stations. Launched in February, the crackdown has led to the seizure of more than 2,600 fake base stations.
These fake base stations are used to send spam messages to mobile phone users. Said messages are disguised as texts from (fake) phone numbers, or as messages from official sources, e.g., government offices.
One of the groups that met its demise as part of the campaign is suspected of sending north of 200 million spam messages.
[Source: Reuters]
Japan's Smartphone Gaming Market Huge, Getting Huger
Japan's domestic smartphone gaming market was worth US$5.4 billion in 2013, a 178 percent spike from 2012, according to a report from Tokyo-based advertising and marketing firm CyberZ.
The numbers suggest that the smartphone gaming sector now accounts for nearly half the value of Japan's overall gaming industry, estimated to be worth almost $11 billion.
CyberZ projects that Japan's smartphone gaming sector will hit $6.5 billion in 2014, and $8.1 billion in 2016.
[Source: Tech In Asia]
Poland to Roll Out Stealth Tank
Poland will introduce a radar-defying, stealth-looking tank in the coming years.
The PL-01 could go into production as early as 2018, and it seemingly represents that next step in tank technology.
The tank comes equipped with a 350-degree "viewing arc," and will be able to reach speeds of more than 40 miles per hour.
[Source: The Washington Post]
Brazil Moves on Online Regulation Overhaul
In Brazil, the lower house of Congress approved the "Marco Civil da Internet," which would — if passed by the Senate and inked by President Dilma Rousseff — force international Web companies to adhere to Brazilian law within the country.
Such a bill has been in the works for years, but the process seems to have been accelerated by ongoing National Security Agency revelations. Last August, Brazil floated the idea that foreign tech firms would be forced to store data on Brazilians inside the country, but lawmakers appear to have backed off of that a bit.
The recently approved bill does have a few other nuances. It would, for instance, make Net neutrality the law, and would limit the liability of platforms should users upload prohibited content.
[Source: Giga OM]