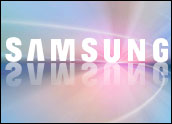 Samsung unveiled a new, high-capacity solid state drive (SSD) Monday at the fifth annual Samsung Mobile Solution Forum in Taipei.
The 2.5-inch, 256 gigabyte (GB), multi-level cell (MLC)-based SSD uses a SATA II interface, and it's the world's fastest SSD, according to the company.
In addition, Samsung said its new SSD is the thinnest drive with the largest capacity offering a SATA II interface.
Samsung expects to begin production of the 2.5-inch SSD by the end of 2008 but will make customer samples available in September. Once the SSD has been introduced, it will be the largest capacity SSD on the global market and effectively eliminate density as a barrier to SSD adoption, the company said.
A 1.8-inch version of the 256GB SSD is expected during the fourth quarter of 2008.
"This is an important announcement because of the performance of the drive and its availability [in] September of this year. As far as I know, this is the fastest MLC-based SSD that will be in the market, with only Toshiba having a credible rival that will be available this year," said Joseph Unsworth, a research director at Gartner.
Flash Forward
Based upon technology found in flash memory chips, SSDs have no moving parts, unlike hard disk drives (HDDs) and their spinning magnetic disks with read-write heads suspended above them. The absence of moving parts makes SSDs generally more reliable and able to offer better performance than HDDs.
"SSDs typically have faster read performance, the endurance can be an advantage because of no moving parts — more power efficient, noiseless, no heat dissipation, etc.," Unsworth noted.
Samsung's new SSD has a sequential read speed of 200 megabytes per second (MB/s) and sequential write speed of 160 MB/s, making it 2.4 times faster than a standard HDD, the company said. It's also a slim 9.5 millimeters thick. When in active mode, it consumes less than 0.9 watts of power.
SSD technology does not come without a price, however. The major drawback to SSDs is their price per GB, Unsworth told TechNewsWorld.
"You can get 10 times more storage with an HDD than you can with SSD for the same price, and sustained write speeds can also be a consequence depending on application and quality of the SDD, [and] MLC has questions regarding its longevity in certain usage situations, so this could be viewed as a consequence depending on the applications," he added.
The inclusion of MLC-based technology is a step up from the current single-level cell (SLC) technology. The big benefit of the technology is "the ability to store twice the amount of capacity for the same amount of cost, potentially," according to Jeffrey Janukowicz, an IDC analyst.
"Versus traditional flash drives on the market today, which use SLC, MLC-based products will be able to offer a more cost-competitive product. You can definitely see a 2-times improvement in pricing alone just from moving to MLC technology," he explained.
Getting the Right Price
Consumers will see the new drives primarily in premium-priced notebook computers, Unsworth said.
"Since this is MLC-based, really we are only talking consumer products like laptops, and the form factor will dictate that it will most likely be used for notebooks. The price is what will be key here — 256 GB is going to be expensive, at least $700 coming out of the factory, so I speculate that this will initially cost in the range of $1,000. The capacity is a nice storage sweet spot, but prices must come down in order to drive mainstream adoption," he said.
There is certainly room for SSDs to become more cost competitive versus HDDs, Janukowicz told TechNewsWorld.
"Moving to MLC is one of those steps in the process to becoming a more cost competitive solution. That's why this is important," he added.
Samsung competitor Intel will launch a 128 GB SSD in the third quarter, and Toshiba plans to ship a 512 GB SSD by 2009.
"2009, 2010, 2011, you'll start to see more solid state drives offered in the market. Right now they are primarily offered as an option. But by 2009, 2010, they will be a much more competitive solution," he concluded.