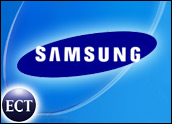 Verizon announced the latest addition to its line of touch-screen mobile phones Thursday. The Glyde from Samsung, available Friday, offers many features that have gained popularity following the introduction of Apple's iPhone.
The Glyde joins the LG Voyager and Venus and the Samsung Instinct in a growing list of handsets with more user-friendly touch-screen interfaces, prominent Web browsing features and multimedia functionality.
"It is certainly another impressive high-end phone and certainly capitalizes on consumer interest in touch-screen devices popularized by that other phone with a touch-screen that so many people are talking about," said Michael Gartenberg, a JupiterResearch analyst.
"It definitely should appeal to buyers of similar devices and give something like the Voyager, for example, a run for the money," he continued.
If the buyer signs a new two-year contract and claims a US$50 mail-in rebate, the cost for the Glyde comes to about $250. It's available at Verizon Wireless stores as well as Circuit City.
Tactile Sense
Designed to fit easily within a user's palm at 4 inches by 0.7 inches, the Glyde's more prominent features include the handset's comparatively large, 2.8-inch touch-screen.
On the home screen, users will find buttons that will quickly take them to the phone's main menu, dial pad, contacts and messaging screens. While the phone does not have default buttons for access to e-mail, Web browsing and other functions, users can create customized buttons for shortcuts to those screens. Perhaps aware of user complaints criticizing small touch-screen buttons, Samsung made the buttons on the Glyde large enough to accommodate even generously sized fingers.
"It does have a nice touch-screen interface and nice exposure of high level functions, and that's a good thing," Gartenberg told TechNewsWorld.
And There's More
With the Glyde, Samsung also put some attention toward the mobile Web surfing experience. Reviewers have given the Glyde's Web browser from Access NetFront a solid thumbs-up. The high-end HTML (hypertext markup language) browser is known for its quick rendering, Gartenberg noted.
"At the end of the day, it's mobile Safari that is setting the standard for mobile Web browsers in terms of features, and not surprisingly, lots of other handset vendors are going to look to incorporate that level of functionality in their devices," he explained.
Running on Verizon's 3G EV-DO (Evolution-Data Optimized) network, the Glyde has a step-up on the iPhone, which uses AT&T's 2.5G EDGE (Enhanced Data Rates for GSM Evolution) network when not linked via WiFi. Apple opted for the slower network in part due to concerns about battery life at the time of the phone's initial launch a year ago, said Bill Hughes, an In-Stat analyst.
"If you have an iPhone user who throws away their iPhone and picks up a Glyde, they will see that functionality go much faster on Web browsing," he told TechNewsWorld.
Another standout feature is the Glyde's QWERTY keyboard, revealed when the user slides up the screen.
"Increasingly, more and more of these devices are used for e-mail and communication. Having some type of QWERTY keyboard is something that makes those tasks a little easier. At the end of the day, most of these people are not using the devices to write long e-mails or novels, but having that keyboard gives you a different type of functionality," Gartenberg pointed out.
The handset also includes a 2-megapixel camera, a music player for use with Verizon's V CAST Music and Video, Bluetooth and Verizon's VZ Navigator global positioning system.