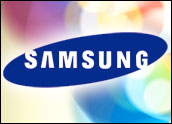 Apple's new iPhone 3G may have made the biggest splash in the smartphone pond on Monday, but it wasn't the only splash. Earlier in the day, Samsung Electronics debuted its Omnia, a device seen as an iPhone contender.
Samsung's Omnia features the Windows Mobile 6.1 Professional operating system, a wide 3.2-inch WQVGA (wide quarter video graphics array) liquid crystal display screen, a five-megapixel CMOS (complementary metal-oxide-semiconductor) camera and a high-resolution touchscreen interface. Internal memory options are 8 GB or 16 GB, with an extendable slot for additions, and a GPS Global Positioning System) receiver offers navigation and geo-tagging capabilities.
Featuring an ultra-slim 12.5-mm profile and a platinum-look finish, the Samsung Omnia will be officially unveiled at CommunicAsia in Singapore in the middle of this month and commercially launched in the Southeast Asian market at the same time. European availability will begin in July. Pricing has not yet been disclosed.
MultiCodec Support
With Windows Mobile 6.1 Professional, the Omnia is designed to give users a mobile extension to their PC experience, with access to documents from Microsoft Office applications such as PowerPoint, Excel and Word. Users can also send and receive e-mail and manage their appointments in Outlook on the fly.
Users of the Omnia can download additional programs much the way they would on their regular PC, Samsung said. An optical mouse provides one-handed control.
The Omnia's LCD screen can be used for viewing videos and slide shows in high-resolution, with advanced audio capabilities as well. The device offers MultiCodec support for DivX, Xvid and other video formats, and a long-life detachable battery provides extended playback.
Customized Widgets
Among the features of the handset's CMOS camera, meanwhile, are auto-focus, face and smile detection, and auto-panorama shot.
Finally, Samsung's patented TouchWiz user interface makes entering data and text simple, the company says. The device's touch-sensitive screen uses intuitive tap, sweep, drag and drop operations as well as an on-screen qwerty keyboard. A dome key is dedicated to controlling communications, while unique widgets allow users to customize the way they use their phone.
"The cell phone industry continues to grow and change," wireless and telecom analyst Jeff Kagan told TechNewsWorld.
Focus on Power Users
There are very few first-time customers to market to at this point in the U.S. marketplace, Kagan noted; "however, there are still plenty of first-time users around the world that carriers are advertising to."
Within the industry, multifunction handsets are continuing to see increased sales, he said.
Both the Omnia and the iPhone "seem to be focused on the power user," Kagan said.
"Apple's iPhones are terrific devices and get a lot of the attention, but there are several similar competing devices that many customers like just as much," he added. "The iPhone will be a competitor, and they are focusing a lot of attention on the space, but there are many competitors in that space and there are a lot of new handsets coming out on a regular basis."
Approaching Mainstream
Indeed, the iPhone "has created buzz for the whole industry," Neil Strother, a wireless analyst with JupiterResearch, told TechNewsWorld.
It has also "set a standard that other device manufacturers are trying to copy," Strother said. "Part of what the iPhone did was spur some innovation — everyone wants to grab some of the iPhone's beauty."
It's not clear that "everyone will flock to these devices right away, because they tend to be expensive, and are not everyone's cup of tea," Strother pointed out.
Nevertheless, today "accelerometers and touchscreens are sort of 'the new Razr,'" Strother asserted. Moreover, "people with phones that can do more will probably spend more, so this is good for the overall industry and shows that mobile devices are going beyond the phone for a larger number of folks.
"It's not mainstream yet," he concluded. "But it's getting closer."