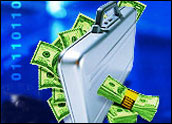 Having established its credentials as a key player in the consumer smartphone world — perhaps the key player — Samsung is bolstering security to take a stab at business users, a demographic traditionally dominated by BlackBerry.
For the past year, Samsung has been beefing upthe Android software that powers its smartphones to protect it against malware, according to The New York Times. The goal is to become more attractive to corporate information technology departments that have, for security reasons, continued to trust BlackBerry even as it falls out of favor with consumers.
To tap into BlackBerry's market, Samsung has added features to Android, such as allowing users to create "personas" for business and personal use — something that also available in BlackBerry 10. Thus a device's "business persona" might only use apps approved by an IT department. If malware wormed its way into a device's "personal persona," it couldn't get to the business persona.
Samsung reportedly teamed up with General Dynamics, a military contractor whose collaboration with the company is expected to show up on the Galaxy S IV, due to be unveiled in March.
Samsung's push is also evident in its advertising, which is increasingly focused on business usage. Galaxy phones and tablets are already used by workers at American Airlines, Dish Network and Boston Scientific, a healthcare firm.
"We will become number one in enterprise," said Tim Wagner, Samsung's VP for enterprise sales who used to work at BlackBerry.
Report Reveals Cyberattacks – but Not the Culprit
Maybe this is just going to be a weekly occurrence.
Fresh on the heels of a Mandiant report implicatingChina's military in a years-long cyberespionage operation against the U.S., cybersecurity firm Kaspersky Labs has identified another enormous cyber assault.
A string of attacks dubbed MiniDuke, first discovered by Kaspersky, have targetedgovernment officials in more than 20 countries, according The Guardian. The attacks reportedly infected government computers as recently as this week and are designed to steal "geopolitical intelligence."
The attackers used servers based in Turkey and Panama, Kaspersky said, but that the actual perpetrators are unknown. Targets included the governments of Belgium, Ireland, Portugal, Romania and the Czech Republic, as well as a research foundation in Hungary and a healthcare provider in the U.S.
The malware that facilitated the attacks was disguised within an Adobe PDF email attachment.
First Mobile Tweets From North Korea Hit Web
North Korea's recently-opened 3G network has paved the way for the country's first-ever social media posts sent from mobile devices.
The first wave of mobile content is starting to hit the Web from North Korea, according to the Associated Press. That content includes a series of photos to Instagram that features a shot of a roadside banner touting North Korea's recent nuclear launch.
The nation recently enabledits 3G network for data transfers. While that 3G is only available to foreigners — like, say, AP correspondents — it nonetheless marks a watershed development in North Korea, where information going into and coming from the country has long been restricted.
If the 3G network weren't already forbidden to locals, then the prices might make it so. Calls to the U.S. cost up to US$8 per minute, the AP reported, while the SMS to activate the service is nearly $100. The nation's GDP per capita is less than $2,000.