After initially revealing its new Ativ Book 9 Lite ultraportable PC in June, Samsung on Monday announced that it is now accepting preorders for the Windows 8 device, which will be available in the U.S. on July 28 for US$799.99.
Weighing 3.5 lbs. and measuring less than an inch thick, the Ativ Book 9 Lite offers a 13.3-inch touchscreen LCD display with 1,366 x 768 resolution along with 4 GB DDR3 memory, a 128 GB solid state drive for storage, a 720p HD camera and up to 5.5 hours of battery life.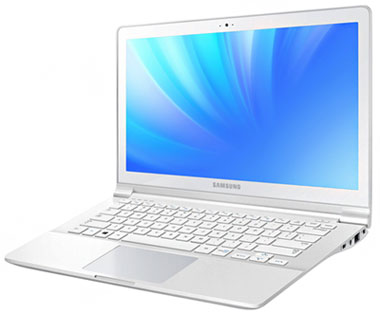 Also announced last month was the Ativ Book 9 flagship device, but no pricing or availability details have been announced for that model so far.
'White Label Processor'
Whereas the Ativ Book 9 is expected to be powered by an Intel Haswell chip, Samsung made a different choice for the Ativ Book 9 Lite. The company lists the machine as having a quad core processor with speeds up to 1.4 GHz, but it doesn't specify the chip's maker or any other details.
"Samsung collaborated with AMD on this exclusive white label processor," Samsung spokesperson Alex Pitocchelli told TechNewsWorld.
Samsung did not respond to our request for further details.
'A Complete Surprise'
Even if it's custom-designed, the processor looks very much like Intel's Kabini chip, Jim McGregor, principal analyst at Tirias Research, told TechNewsWorld.
"This is a complete surprise, because the platforms were not due to be introduced until Q4," McGregor said. Nevertheless, "this is good news because they are very cool systems.
"I have a Kabini development system and I am very impressed with it," he added. "This platform gives me all the performance of a normal PC with the Radeon graphics and the longest battery life on any ultrabook/ultra-thin that I have owned thus far."
SideSync Technology
Also included in Samsung's Ativ Book 9 Lite is what Samsung calls SideSync technology, which enables users to switch seamlessly between their PC and their Galaxy smartphone by connecting the two devices via a USB cable. They can then respond to text messages from their PC keyboard, for example, and even drag and drop files from one unit to another.
"The SideSync application is nice, but it really should be a wireless solution by now," McGregor opined.
In terms of the machine's other specs, meanwhile, "it looks okay, but they still have the issue with the price vs. the SSD.
"If Samsung had used a hard drive instead of an SSD, they could provide more storage at a lower price point," he explained. "However, using the SSD gives the platform more performance and lower power. Unfortunately, that tradeoff will continue for some time."
'One to Consider'
The Ativ Book 9 Lite "looks like a high-end Windows laptop," Roger Entner, principal analyst at Recon Analytics, told TechNewsWorld.
The capacitative touchscreen is generally a bit difficult to handle, as most handsets use inductive, which are more responsive but also more expensive," Entner added.
At $599 the machine would be more attractive, McGregor said, "but this continues to be the issue with ultrabooks/ultra-thins and why they are losing out to other mobile platforms."
In any case, "it would seem that Samsung got a jump on everyone with a competitive solution," McGregor concluded. "I still think that it is too expensive, but if you really want a good PC, this is one to consider."