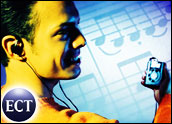 SanDisk on Monday announced a new, pencil-thin video MP3 player that appears likely to go head-to-head with Apple's newly upgraded iPod nano.
The new Sansa View combines MP3 playback capabilities with full-motion video support, a large screen, long battery life and generous capacity. Perhaps even more notable, the device also boasts an optional 8 GB microSD/microSDHC card for memory capabilities of up to 24 GB.
Due in October, the Sansa View will carry a suggested retail price of US$199.99 for a 16 GB flash-based player or $149.99 for a 8 GB version.
"The Sansa View is a new video MP3 player that combines all of the great characteristics of an MP3 player with the video capabilities of a portable media player, and packs it into a pocketable device," said Eric Bone, vice president of marketing for SanDisk's Sansa audio/video product line. "What's more, we're once again showing that category-leading technology can still be very affordable."
Multiple Video Formats
The Sansa View device comes equipped with a smooth, backlit scroll wheel and 2.4″ widescreen display for easy navigation to a music library, video collection, digital photos, digital FM radio, integrated microphone and voice recording, or Audible audio books. It is just 8.8 mm thick at its slimmest part.
The video player portion of the device makes it easy for consumers to transfer videos natively using widely available software. Most popular formats are supported via embedded H.264, WMV and MPEG4 player functionality or via the Sansa Media Converter, a software download that quickly transcodes numerous video files, including DivX, SanDisk said. Video playback is at 30 frames per second.
The 8 GB device can hold 2,000 songs and 4,000 JPEG photos, and play 12 2-hour movies, while the 16 GB version, not surprisingly, doubles those amounts. Its rechargeable, lithium polymer battery offers 35 hours of audio playback and 7 hours of video.
SanDisk's microSD/microSDHC cards, meanwhile — also just announced, in capacities of up to 8 GB — not only expand storage, but also allow users to easily move their content to a cell phone or other mobile device, the Milpitas, Calif.-based company said.
The device supports many music download and subscription services, including Rhapsody To Go, Napster and eMusic.
'A Better nano'
SanDisk originally announced the Sansa View in January, but "decided to re-scope the product to develop a player with new features and functionality that best suit current consumer interests," the company said.
"This looks very much like the old nano with a bigger screen and lots more capacity," Rob Enderle, president and principal analyst with Enderle Group, told TechNewsWorld.
Apple's iPod line, which was revamped last week with new entries and upgrades to existing ones, is "very convoluted," Enderle said, and risks confusing customers.
Apple's new iPod nano, priced starting at $149, adds video playback, an enhanced user interface, and a larger, two-inch display to the best-selling music device.
Not everyone likes it better, however. "It looks dumpy," Enderle said. "It's almost like SanDisk is building a better nano, and at a much better price point with that massive amount of storage," he added. "The Sansa View is small, it's sexy, and it rolls against what I think is probably the least sexy product Apple has ever brought to market."
A 'Winning Feature'
The removable extra storage, in particular, is "the winning feature" on this device and the differentiator SanDisk hopes will set the Sansa View apart from the nano, Harry Wang, research analyst with Parks Associates, told TechNewsWorld.
"SanDisk is playing its card of being a key supplier of NAND flash memory, which allows it to keep prices lower than Apple can," Wang noted.
Since a capacity of 16 GB could be low for some consumers who have large multimedia libraries, the additional memory option could be a real advantage for those looking to boost storage in a flexible way, Wang explained. "This will create a real perception of value."