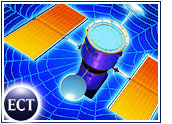 When it comes to high-speed data networks, users tend to focus on cable modems or digital subscriber lines, but they do have a third option: satellite services. Though not nearly as popular as the others alternatives, satellite systems have found a growing number of fans. Approximately 100,000 consumers and businesses in the U.S. rely on them for Internet access.
Interest in these systems is rising for a few reasons, starting with recent technological improvements in satellite networks. Carriers are moving away from proprietary data protocols, which require a great deal of systems integration work and are difficult to maintain, to TCP/IP, where new links can be connected more easily. "It's been a slow process but satellite providers are starting to move to more standard protocols," said Chris Baugh, an industry analyst with Northern Sky Research.
However, the pairing of IP and satellite networks is not a natural one. A satellite link travels from a user's desktop to a network switch to a "very small aperture terminal" (VSAT) — basically a satellite dish — that exchanges information with a spacecraft orbiting the earth 22,300 miles away. Each time a data packet is shipped it travels up from the sending system to the orbiting satellite and then back down to a receiving dish. The time needed to make the trip translates into one-quarter of a second. The framing, queuing and switching TCP/IP relies on to ensure that packets arrive at the proper destination can increase that time to as much as half a second.
Off by a Factor of a Hundred
TCP/IP was designed for networks where delays are measured in milliseconds rather than tenths of seconds, so satellite delays can disrupt the acknowledgements and handshaking that is at the core of the network protocol. This problem can decrease network performance: Whenever a line becomes garbled, TCP/IP adapts by slowing down the transmission rate, and satellite network transmission speeds may slow to a crawl.
To address the problem, equipment vendors and service providers devised a variety of workarounds of known problems within the system. Packet spoofing, for example, fools a sending system into thinking it has received acknowledgments for shipped packets so it continues to transmit data steadily.
Another challenge is that satellite systems have to account for the weather. Heavy rain or snow can slow down transmissions and increase the number of dropped packets. Vendors have developed various schemes to address the latency and weather problems, but these techniques often add overhead to data transmissions, and that lowers throughput.
These satellite communications limitations exacerbate another problem with the networks: a lack of bandwidth. Terrestrial carriers are upgrading their fiber-optic backbones to OC-192 links, which transmits data at up to 10 gbps, while satellite lines typically top out at 45 mbps.
Easier Coming Down than Going Up
The bandwidth constraints are most evident when companies try to upload information. Unlike many terrestrial services, satellite services support different transmission rates for uploads and downloads. That's because these networks were optimized for video transmissions, where complex images are shipped to tens — or even hundreds — of endpoints and little, if any, data is sent up from those end stations. As a result, download speeds can be 10 to 20 times faster than upload rates. While satellite network transmission rates have been improving, they are not as fast as cable modem or DSL systems.
Users also discover that deployment of satellite networks can be tricky. Customers have to make sure that they have a clear line-of-sight for the transmission; something as innocuous as a tree could block a sight line so that no information flows over the link.
Price has been another hurdle for satellite suppliers. Wireline carriers rely on less costly equipment, possess more network capacity to spread out their operating costs, and have larger customer bases, which means greater revenue than satellite suppliers. Consequently, a satellite link may cost two to ten times as much as a terrestrial line. "There aren't many cases where a satellite option wins a head-to-head competition with a cable modem or DSL service," Northern Sky's Baugh told TechNewsWorld.
New Opportunity Emerges
As a result, satellite services have emerged as a good alternative to terrestrial lines only for a few niche applications. Satellite television vendors have been broadening their product portfolios with Internet access and telephony services so they can provide consumers with all of their data, voice and video services. Hughes Network Systems, Inc., a subsidiary of The DirectTV Group Inc., has been promoting its DirectWay Internet access services as a complement to its satellite broadcasting services.
In rural areas, satellite is often the only communications option. "Satellite is able to offer universal coverage, which is something wired and wireless carriers cannot," noted Victor Schnee, president of market research firm Probe Financial Associates Inc. There are between 20 and 25 million homes in the U.S. that fall into that category, so Starband America Inc., a subsidiary of satellite service provider Gilat Satellite Networks Ltd., has also had some success in this space.
After September 11, 2001, corporations understood that their disaster recovery plans must take into account the possibility that a telecommunications central office could be wiped out. As a result, the traditional technique of relying on alternative landline carriers doesn't provide desired resiliency, but satellite links do.
"Recently, satellite vendors have been aggressively promoting their networks as backups to landline and wireless networks," Probe Financial Associates' Schnee said.
Dot-Bomb Fallout
These successes arose amid a number of high-profile flops. Like other telecommunications segments, the satellite space has had to dig out from the dot-com bust. A few years ago, industry heavyweights including Bill Gates and Craig McCaw backed various ventures that planned to launch new satellites for data communications services. When the dot-com bubble burst, those ventures were canceled.
Given the nature of satellite communications — vendors have to plan years in advance to take advantage of new spaceship launches — the recovery process has taken a bit longer than landline and wireless communications.
Still, at least one high-profile venture from the dot-com era remains. As 2004 closed, Wildblue Inc. began testing its high-speed satellite Internet service, which relies on the Anik F2 satellite that went into orbit last fall. Wildblue is planning a nationwide rollout of its services next summer. The company is looking to lower monthly service from the $75 range, where it is now for many services, to the $50 range, which would make it more competitive with cable modem and DSL services.
How much of an impact these new services will have on the market is unclear. "As of now, satellite providers are taking a wait-and-see attitude when it comes to Wildblue," concluded Northern Sky's Baugh. "If the company has a great deal of success, then competitors will be forced to respond, but as of now, they are waiting for the company to deliver on its promises."