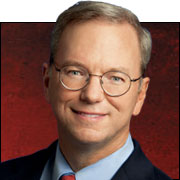 Google Executive Chairman Eric Schmidt defended the company's tax practices in the United Kingdom, where Google and a handful of other U.S. tech companies have been chastised for not paying enough taxes.
Google paid just over US$9 million in UK taxes in 2011, despite hundreds of millions in turnover. The company was able to pull this off by operating out of Ireland, which has a much lower tax rate than the UK.
Schmidt struck a familiar note in the UK tax debate, reiterating that Google's tax arrangements are in full compliance with the law. Indeed, UK regulators have not proven — and really aren't even suggesting — that Google has broken laws. The complaint is that tech companies like Google, Facebook, Amazon and eBay use clever bookkeeping — and, in Google's case, "immoral" behavior — to avoid paying their full share of taxes.
Schmidt defended the tax tab by pointing out that Google has hired north of 2,000 employees in the UK and was investing heavily in Britain. With regard to taxes, he added that this is "the way taxes are done globally," and that UK firms in the U.S. operate under the same philosophy.
[Sources: The Guardian; BBC]
BlackBerry Mulls Korea Pullout
Having already announced that it wouldn't be releasing the BlackBerry 10 in Japan, BlackBerry reportedly is considering punting on South Korea as well.
The potential pullout could happen in the first half of this year.
BlackBerry sales have been sluggish in South Korea, which increasingly is dominated by Apple and homegrown Samsung. Other smartphone rivals, such as HTC and Motorola, have also waved the white flag in Korea.
[Sources: Yonhap News, The Next Web]
Taiwan Frets Over Samsung
Lagging exports for Taiwanese manufacturers of smartphones, memory chips and display panels have piqued concerns in Taiwan about South Korea-based Samsung.
Samsung has been engaging in a "Kill Taiwan" campaign, according to Business Today, Taiwan's top business magazine, which ran a cover story on it in March.
The campaign has targeted Taiwan Semiconductor Manufacturing Co., the world's top contract chip maker, and other Taiwan firms, according to the article.
Samsung does not employ such underhanded tactics, insisted a company spokesperson, but there is nonetheless suspicion.
Taiwan already has launched an investigation into whether Samsung hired students to post disparaging reviews of HTC on the Internet.
[Source: The New York Times]
Earthquake Brings Out Tech Companies' Philanthropic Side
The recent earthquake in China's Sichuan Province has prompted tech companies to help in the recovery effort.
Apple has pledged $8 million for Chinese victims, and Samsung has promised to donate more than $9.5 million. Samsung reportedly also has set up free phone repair centers in areas affected by the quake, which is responsible for at least 179 deaths, while Apple has vowed to give free Apple devices to schools in the region.
Apple, which has been getting hammered by Chinese media recently, also posted a memorial to victims on its homepage.
[Source: Tech In Asia]