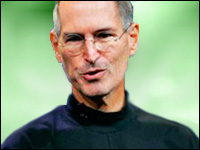 Johns Hopkins University scientists have deciphered the genetic code for a rare type of pancreatic cancer — neuroendocrine or islet cell tumor — that Apple CEO Steve Jobs told the world he'd been diagnosed with back in 2004.
The discovery explains many of the cancer's troubling, highly variable properties and suggests new treatment approaches.
"This is big news," said Enderle Group Principal Analyst Rob Enderle, who, though he studies Apple, has never entirely understood Jobs' diagnosis. "I suspect that not only could this discovery impact the market for Apple's stock, but that it could also have a very positive impact on genetic and pancreatic tumor research generally."
Described online in the Jan. 20 issue of Science Express, the deciphered genetic code confirms an unusual property of the illness that Jobs himself had a hard time convincing markets and analysts to accept: that with this form of pancreatic cancer, he could still live a long time.
"I had a very rare form of pancreatic cancer called an islet cell neuroendocrine tumor, which represents about one percent of the total cases of pancreatic cancer diagnosed each year," Jobs wrote in an August 2004 email message. "It can be cured by surgical removal if diagnosed in time (mine was)."
Since then, Jobs has left Apple twice for medical leave, and appears unusually thin in public meetings, but is still very much alive and very much the beating heart of Apple innovation.
Unique Code
The newly deciphered genetic code is significant for four major reasons, co-investigator Ralph Hruban, M.D., professor of pathology and oncology and director of the Sol Goldman Pancreatic Cancer Research Center at Johns Hopkins, told TechNewsWorld.
For the first time, it clearly distinguishes between neuroendocrine islet cell pancreatic cancer and its famously fatal brethren, pancreatic adenocarcinoma. "These two cancer types have fundamentally different genetic codes," Hruban said.
The research also provides several so-called "prognostic markers" which can predict which patients and which treatments will fare best.
"One of the most significant things we learned is that each patient with this kind of rare cancer has a unique genetic code that predicts how aggressive the disease is and how sensitive it is to specific treatments," explained co-investigator Nickolas Papadopoulos, Ph.D., associate professor at the Johns Hopkins Kimmel Cancer Center and director of translational genetics at Hopkins' Ludwig Center.
Thirdly, one of six patients with the rare cancer has genes that contain mutations in a gene called mTOR, making those patients candidates for treatment with mTOR inhibitor drugs, several of which, such as rapamycin and everolimus, are already in use.
It's not known if Jobs' cancer involved such a mutation, but the discovery may prompt his physicians to check.
"This is a great example of the potential for personalized cancer therapy," said Hruban. "The one of six patients who are most likely to benefit from a drug can be identified and treated, while patients whose tumors lack changes in the mTOR pathway could be spared the toxic side effects of drugs that may not be effective in their tumors."
Finally, the discovery has unearthed a "whole new genetic pathway" involved in causing cancer, Hruban told TechNewsWorld. "Cancer is fundamentally the product of genetic errors," he said. "To find such a new genetic pathway through researching a rare cancer is very exciting."
Personalized Therapy
The Johns Hopkins team investigated pancreatic neuroendocrine tumors in 68 men and women. Patients who had mutations in the MEN-1, DAXX and ATRX genes lived at least 10 years after diagnosis. More than 60 percent of patients whose tumors lacked these mutations, however, died within five years of diagnosis.
In experiments to identify the mutations, the researchers sequenced nearly all protein-encoding genes in 10 of the 68 samples, comparing the sequences with normal DNA from each patient. In other experiments, the researchers studied the remaining 58 pancreatic neuroendocrine tumors to determine how often the mutated genes occurred.
Previously linked to many other cancers, the MEN-1 gene occurred in more than 44 percent of the 68 tumors. The DAXX and ATRX, not previously linked to cancer, appeared in 25 percent and 17.6 percent of the 68 study participants, respectively.
Those genes are part of the new genetic pathway Hruban said the researchers found.
All three genes impacted so-called "epigenetic" processes, such as how DNA folds and twists. Unlike genetic processes, epigenetic processes operate outside of genes. They also suggest potential future therapies.
"To effectively detect and kill cancers, it may be important to develop new diagnostics and therapeutics that take aim at both epigenetic and genetic processes," said co-investigator Kenneth Kinzler, Ph.D., professor of oncology at the Johns Hopkins Kimmel Cancer Center and co-director of the Ludwig Center at Johns Hopkins.
As a major supporter of the research, the Caring for Carcinoid Foundation (CCF) is pleased with all the new findings. Carcinoids are rare, neuroendocrine tumors that normally arise outside the pancreas, but have many similarities to the cancer Steve Jobs has battled.
"We work very hard for patients with these rare cancers," CCF director Lauren Erb told TechNewsWorld. "If the interest in Steve Jobs can help get the message out, that's good news."