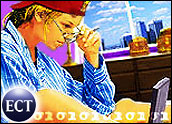 When the Internet first emerged into the mainstream, companies like Yahoo evolved rapidly from startups into successful corporations by helping users sift though mountains of information to find the data they needed. But as the Internet grew, many of those companies shifted their attention away from pure search technology to become what we now call portals.
This metamorphosis took place because the companies thought revenue sources like banner advertising would be more lucrative than search engine ads. That assumption has proven to be false — or, at least, not completely valid.
"Companies have found that rather than being a loss leader, search technology has turned out to be a significant moneymaker," said Gary Stein, a senior analyst at Jupiter Research. "Search advertising offers corporations a simple and effective way of finding interested — usually qualified — customers, who often are on the verge of making a purchase."
That method, called paid-search advertising, is a development the search pioneers-turned-portal-giants did not foresee.
Paid-Search Basics
In paid-search advertising, an advertiser either pays a search engine company for keyword placement or pays to have an ad displayed in the context of certain search results. If a person is seeking information about mobile phones, for example, a paid-search listing would generate results from advertisers at the top of the search-results list.
One reason why paid-search advertising is so effective — proponents of the model argue — is that customers prequalify themselves. According to David Hallerman, a senior analyst at market research firm eMarketer, paid-search advertising typically costs just a few cents per lead.
As a result, some firms are directing advertising dollars to search companies in addition to their usual ad campaigns. EMarketer found that search advertising revenue grew from US$927 million in 2002 to $2.07 billion in 2003, a 123 percent increase.
"Initially, paid search engine advertising appealed to small and medium businesses because the price was relatively low," Hallerman told TechNewsWorld. "As the results have become more widely known, larger companies are also using it in their marketing programs."
About Face
In turn, as portal giants have seen search engine companies' coffers overflow with revenue gleaned from paid-search ads, they have begun to rethink their move away from search technology. Competition in the search marketplace has grown increasingly fierce. Yahoo, which abdicated the top spot in the search market as it concentrated on building its portal business in the late 1990s and early 2000s, renewed its focus on search in 2003.
To do so, the company went on a buying spree, purchasing paid-search pioneer Overture; Inktomi, which had a lot of experience in optimizing search requests; and onetime search-engine heavyweight AltaVista. Analysts expect Yahoo to integrate the disparate offerings — which account for about 40 percent of all Web searches — during 2004 as it tries to reclaim market leadership in the search arena.
Watch Out for Bill Gates
That task will not be easy. Google, which secured the top spot by concentrating solely on search technology, will not give up the crown easily. "Google employees tend to have a real passion about the company and its focus," Jupiter's Stein told TechNewsWorld. "Through marketing deals with companies like America Online, Google accounts for about 45 percent of all Internet searches."
Additionally, the twosome of Yahoo and Google soon might find themselves trading blows with another industry Goliath: "Everyone is waiting for Microsoft to make its next move into the search market," said Ron Belanger, vice president of search engine marketing at Carat Interactive, a marketing agency.
Indeed, Microsoft has been dabbling in the search market, and top executives have said the firm intends to become a key player in the field. The company formerly relied on Overture to supply its paid-search sales leads, but that arrangement was terminated after Yahoo bought Overture.
Microsoft reportedly has been working on its own search capabilities, which are expected to roll out during the year. "It would make sense for Microsoft to build search into its operating system, since that is the route it has often taken in the past," eMarketer's Hallerman told TechNewsWorld.
Any Room for Us?
As the giants clash, about a dozen smaller firms — such as Alltheweb, AskJeeves, DogPile, HotBot, Teoma, Terra Lycos and WebCrawler — are trying to carve out their own market niches. One possibility is content-specific advertising, in which pop-up advertisements are triggered by keywords found in written materials, such as news articles, product comparisons or company content, as users are reading.
Localized search also is becoming a focus. Currently, most search engines cannot determine a user's location when he or she conducts a search. If a firm had that knowledge, it could pair local information with search results and then present local advertisements to potential customers. Some large search engineshave begun to experiment with this technology.
In the future, further consolidation is possible. "I could see a firm like Microsoft or Google acquiring a search company that had a specific technology or capability," Jupiter Research's Stein said.
Test of Time
Whether or not the paid-search revenue model will stand the test of time remains to be seen. The market is changing, and a spate of shakeups, mergers and other upsets has made the future of search-based advertising uncertain. For now, though, most analysts agree that this advertising model will remain a strong force on the Internet.
"Paid-search advertising is a growing business," eMarketer's Hallerman said. "I don't expect the 100 percent growth that we saw last year, but it should increase at a healthy rate — 20 to 30 percent — during the next few years, because the vendors have proven that it is an advertising method that works."