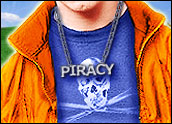 Colleges and universities narrowly escaped being forced to implement campus antipiracy technologies in exchange for funding Tuesday when a scaled-back version of a proposed piece of legislation, substituted at the 11th hour, won Senate approval.
The original amendment to the Higher Education Reauthorization Act (HERA), proposed last week by Senate Majority Leader Harry Reid, D-Nev., would have required a select group of colleges and universities to install and use technology to prevent illegal sharing on campus — or lose their Title IV government funding.
The group in question would have been the 25 schools with the highest numbers of written copyright infringement complaints from copyright holders.
'An Important Victory'
After a flurry of outcry from colleges, universities and freedom advocates, Reid quietly removed the amendment without explanation on Monday, substituting instead milder requirements — not linked to funding — regarding student education. Along with HERA, that version was approved 95-0 by the Senate on Tuesday.
"This is an important victory," said Mark Luker, vice president of Educause, a nonprofit focused on the use of IT in higher education. "The antipiracy measures that were originally submitted were unacceptable, but the new language is much more palatable."
Using the number of copyright complaints received as a way to single out universities with the worst records fails to recognize that the numbers are bound to increase with enrollment size, Luker told TechNewsWorld. Even worse, it would effectively make the U.S. Secretary of Education "an agent of the entertainment industry," he added.
Finally, the antipiracy technologies that would have been required "are really not ready for prime time," Luker explained. "They have a lot of problems."
New Paperwork
Rather than strict requirements linked to funding for the 25 schools with the worst copyright records, the new amendment simply requires that colleges and universities provide students with materials informing them that unauthorized distribution of copyrighted material may subject them to civil and criminal penalties, along with a summary of the penalties for violators and a description of the institution's policy on peer-to-peer (P2P) sharing.
While the revised amendment may lack the teeth of its predecessor — which was called the "Big Brother Amendment" by advocacy group Digital Freedom — content industry representatives from both the Recording Industry Association of America (RIAA) and the Motion Picture Association of America (MPAA) expressed reserved approval of the passed legislation.
'Positive Momentum'
"We commend the majority leader for focusing on such an important issue," said Mitch Bainwol, chairman and CEO of the RIAA. "The theft of music on campus and elsewhere not only hinders record companies' investment in new bands of tomorrow, but poses serious problems for schools whose students use P2P networks to engage in copyright theft.
"This legislation serves as an important step in the right direction, but we need to maintain positive momentum to properly address the issue of campus music theft," Bainwol added. "We look forward to our continued work with Congress and the higher education community as we make these important strides." .
"Piracy costs the U.S. film industry over US$6 billion annually, which means lost jobs and revenue for the American economy," said MPAA Chairman and CEO Dan Glickman.
"Some college students are abusing powerful taxpayer-funded computer networks to download and distribute movies and other copyrighted material, which is why we are committed to working with universities to develop and implement plans to address this problem," Glickman went on. "We commend Senator Reid for his leadership in getting this important legislation passed through the Senate."
Strange Bedfellows?
While few dispute the fact that illegal sharing is a form of theft, the apparently close alliance between industry and government in this case struck some observers as too close for comfort.
"Basically what's happening here is that the media companies are trying to get universities to become their policemen," Phil Leigh, senior analyst with Inside Digital Media, told TechNewsWorld.
"They already have the government doing it, and my concern is, where does it stop?" he added. "I don't know of many industries that can get the federal government to be their agent."