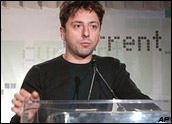 Google cofounder Sergey Brin on Wednesday became the first person to put down a deposit of US$5 million toward a future orbital spaceflight through a new program from Space Adventures.
Brin's reservation uses one of six spots initially created in Space Adventures' new Orbital Mission Explorers Circle, which allows individuals to reserve seats on future orbital spaceflights. Such "founding explorers" get preferential access to mission seats on upcoming trips to orbit, whether for their own use or for them to sell to another private astronaut.
"I am a big believer in the exploration and commercial development of the space frontier, and am looking forward to the possibility of going into space," said Brin. "Space Adventures helped open the space frontier to private citizens and thus pave the way for the personal spaceflight industry. The Orbital Mission Explorers Circle enables me to make an immediate investment while preserving the option to participate in a future spaceflight."
High-Profile Clients
In 2001, Space Adventures launched into space Dennis Tito, the world's first privately funded spaceflight participant. Since then, the company has also launched Canonical's Mark Shuttleworth as well as Greg Olsen, Anousheh Ansari and Charles Simonyi.
The company's advisory board includes Apollo 11 moonwalker Buzz Aldrin; Shuttle astronauts Sam Durrance, Tom Jones, Byron Lichtenberg, Norm Thagard, Kathy Thornton, Pierre Thuot and Charles Walker; Skylab/Shuttle astronaut Owen Garriott; and Russian cosmonaut Yuri Usachev.
Richard Garriott, son of board member Owen Garriott, is currently in cosmonaut training, with a launch to the international space station (ISS) scheduled for October.
Private Mission to ISS
Visits to the ISS will soon be within reach of more private citizens through Space Adventures' new arrangement with the Federal Space Agency of the Russian Federation (FSA), its long-standing partner. Also announced on Wednesday, the arrangement calls for the launch of the first private mission to the ISS in the second half of 2011.
That trip will be a fully dedicated mission of the Soyuz-TMA spacecraft, with two seats available for private space explorers, along with a comprehensive package of mission services including science, education and media program options.
Spaceflight participants will have to undergo the same training as other private space explorers have, but the mission is offered not just to individual explorers but also to businesses, organizations and institutions, Vienna, Va.-based Space Adventures said.
Increasing Launch Capacity
Under the new arrangement, Space Adventures will contribute to increasing launch capacity to the ISS.
"This method for growing our commercial partnership with Space Adventures is beneficial for all parties," said Alexey B. Krasnov of the FSA.
The Soyuz to be used for the mission will be a specially manufactured craft, separate from the other Soyuz vehicles designated for the transportation of the ISS crews, Krasnov noted.
"This private mission, flying two Space Adventures' clients at once, will not interfere with the implementation of the ISS program or the obligations of the Russian space agency; on the contrary, it shall add flexibility and redundancy to our ISS transportation capabilities," he said.
Indeed, that is a key point, Harry Lambright, a space policy expert at the Maxwell School of Syracuse University, told TechNewsWorld.
"As long as they are expanding the capacity and not preventing the use of the Soyuz for some other, public purpose, I think it's great," Lambright said. "It's in everyone's interest that we use space as much as possible and make it as popular as possible for those who can afford it."
Production Challenge
There have always been "plenty of options for the Russians to keep making money off of private spaceflight, and this is only one of several," James Oberg, a retired rocket scientist who is now an author and full-time media consultant, told TechNewsWorld.
There are already four Soyuz vehicles slated for launch in 2009, compared with the normal launch rate of only two per year, Oberg noted. With the new plan, a fifth one would need to be added by 2011.
Each one takes about 30 months to build, Oberg added. "We're already in a situation where there are at least four vehicles in various stages of fabrication on an assembly line that used to handle two. This is a significant staffing challenge."
'Very Positive Development'
The key question now is, "can they safely ramp up to this production rate?" Oberg said. "That issue is being seriously questioned in light of the back-to-back failures in the last two Soyuz landings."
Assuming the production challenges are handled, however, adding a fifth one could help further depress the price of any single Soyuz, and "might even save NASA some money," he said. An additional benefit could also be derived if the new, special Soyuz is used to transport cargo for NASA or the European Space Agency, for example. "That could help them recoup their launch costs," he explained.
Overall, Oberg concluded, "I consider this a very positive development."