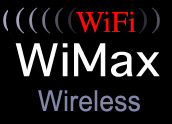 The drumbeat of support for WiMax products has begun to sound a bit more loudly. In August, Sprint Nextel became the largest domestic carrier to throw its weight behind the next-generation wireless option.
"The Sprint endorsement was a bit of a surprise because the company had other options for adding high-speed features to its cellular network," said Craig Mathias, principal at market research firm Farpoint Group.
Indeed, WiMax is one of four options to increase wireless data transmission speeds. Vendors have also been enhancing cellular network protocols to support higher speed transmissions; WiFi, which has proven to be quite popular, offers a second option; and Qualcomm has been promoting Orthogonal Frequency Division Multiplexing (OFDM), an emerging technique that is expected to be ratified as the IEEE 802.20 standard.
The WiMax specifications, which fall under the IEEE 802.16 standard, support transmission speeds up to 70 Mbps. WiMax was fashioned in a manner similar to the 802.11 WiFi standard, a process that helped to increase sales of wireless LANs. Settling on a standardized product design usually eases installation and drives down component costs.
Adaptex, Airspan Networks, Alvarion, Aperto Networks, Fujitsu Microelectronics America, Gigabeam, Intel, Nokia and Proxim are some of the vendors that have been building WiMax products, which are small — the size of pizza box — and support a variety of network transport protocols, like Asynchronous Transfer Mode, Ethernet and IP.
Different Options Emerge
WiMax systems come in two varieties. Compliant products for the first version of the specification (802.16d), which is designed for point-to-point applications, have been making their way from vendor laboratories to customer sites. This version of the standard has limited applications. It could, for instance, move information between high traffic locations where carriers find it difficult or expensive to use wired lines. That scenario is more likely to gain acceptance abroad as countries expand their telecommunications services, than it is in the U.S., where service providers' network infrastructures are well established.
The second version of the standard, 802.16e, works in a point-to-multipoint fashion. Prototype products have been trickling into the market in 2006 with general availability expected in 2007.
"The 802.16e standard is fairly stable, although there are still a few issues involved with items, such as roaming (a scenario in which a call passes from one WiMax base station to the next)," said Bettina Tratz-Ryan, a research director at Gartner.
Carriers can use these devices to blanket metropolitan areas and provide broadband services to enterprises and end users. "WiMax has some attractive attributes when compared to other services," noted Daryl Schoolar, senior analyst at market research firm In-Stat/MDR.
Just Not Fast Enough
Transmission speeds are a limitation in current cellular networks. Carriers have been rolling out 3G services, such as CDMA EV-DO, that offer average download speeds of 300 Kbps to 500 Kbps. WiMax delivers multiple Mbps. Aware of their shortcomings, cellular carriers have been working to enhance their networks. "Carriers have talked about standards, such as EV-DO Rev. B, that should provide cellular networks with just as much bandwidth as WiMax," Farpoint Group's Mathias told TechNewsWorld.
If they wait for those standards to gel, carriers should find them simpler to deploy and manage than WiMax. In the cellular network, a carrier only needs to make a network upgrade; with WiMax, service providers would need to operate two different networks.
WiMax is a more robust networking option than WiFi, which was originally designed for home or enterprise networks, not carrier networks. While WiFi supports transmission ranges measuring a few thousand square feet, WiMax is capable of transmitting network signals in areas of about 30 square miles. WiMax's top data rate of up to 70 Mbps is greater than WiFi's high of 54 Mbps.
WiFi does have a couple of potential pluses, however. There has been movement among WiFi vendors to double the speed of their networks to more than 100 Mbps. In addition, a number of municipalities have been developing WiFi services, so coverage may soon become more common. "WiMax will offer cohesive nationwide networks, while WiFi operates more with pockets of coverage," In-Stat/MDR's Schoolar told TechNewsWorld.
The Cheaper Alternative
WiFi is also less expensive than WiMax. Both networking options rely on two elements, one installed on the carrier's network and the other deployed at the customer's site. Initially, WiMax carrier equipment can cost several thousand dollars. End-user WiMax equipment is expected to range from US$400 to $500. In comparison, WiFi WAN carrier products typically cost just a few hundred dollars. These end-user devices are embedded into portable devices such as laptops and handhelds.
OFDM is more of an unknown at this stage than the other options. "There really aren't any major carriers that have committed to the Qualcomm technology," noted Gartner's Tratz-Ryan.
Carriers have been evaluating the various high speed alternatives and trying to determine which best meets their needs. Sprint Nextel has made a major investment in WiMax: the company said it will spend up to $3 billion over two years to build a high-speed wireless data network using WiMax. It also said it will allocate about $1 billion on the network in 2007 and between $1.5 billion and $2 billion in 2008. The carrier plans to launch broadband services in trial markets by the end of 2007 and make them available to as many as 100 million people in 2008.
Whether the move is the first in a series of WiMax endorsements or an aberration is unclear. "At the moment no one knows how the next-generation wireless broadband market will evolve, but the Sprint endorsement does make WiMax a more viable option," concluded Farpoint Group's Mathias.