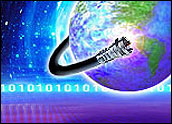 Cable companies are branching out, moving from their traditional video services to new markets, such as Internet access and voice communications.
As they transition into these new areas, they need to determine what type of hardware they should deploy to support their offerings. Because of their video heritage, cable companies have recently begun to show more interest in IP set-top boxes, devices that are placed on television sets and deliver data, video, and voice services to consumers.
Such products have had a slow start and gained little traction here in the U.S., but now it looks as if they will contend with PCs and digital subscriber line (DSL) gateways as the focal delivery point of future home multi-media services.
Driving Demand
A few factors are driving interest in the new set-top boxes. Increasingly, consumers are moving to intelligent homes, residences where a number of devices (computers, TVs, home entertainment centers) are connected on local area networks. By installing these networks, consumers are able to download music or video clips and send them to their stereo system, PC or television. As new applications and services that link these different devices are developed, the need for a device that controls that information flow has emerged.
PC vendors such as Microsoft have been promoting that product as the central control point. Telecommunications service providers have been leading users down the DSL path to residential gateways.
The cable broadband providers' route has been harder to discern. Some have been moving down the DSL residential gateway route, but others want to keep the focus on familiar equipment, the set-top box, and have been promoting fourth-generation devices that deliver both entertainment and data applications. One example is Scientific Atlanta's Explorer 8000 Home Entertainment Server, which provides TV programming, digital video recording, picture-in-picture and video-on-demand, as well as Web browsing, e-mail and gaming.
Network Investment
To date, interest in such devices has been tepid. The set-top boxes leverage video content, and only recently has there been sufficient network bandwidth to support such applications. Also, set-top box manufacturers have had trouble building compact devices that deliver integrated data, video and voice services.
When they began delivering such devices, they found a small customer base because cable companies were feeling the backlash from the Internet boom and cut back on technology investments. With a small customer base, set-top box vendors had to jack up pricing in order to recoup their investments. After a lot of initial chatter, the devices failed to capture a significant number of customers.
There have been signs of change. While a far cry from the Internet boom times, cable companies have recently begun loosening up the purse strings and investing in their networks. "Cable vendors understand the Darwinian notion of survival of the fittest and view video services as a key component to their long term success," said Kurt Scherf, a vice president with market research firm Parks Associates.
The satellite and cable companies need new devices to prop up their bottom lines. "Cable companies understand that there is money to be made in value-added services, such as video-on-demand, and are moving to put the infrastructure in place so they can support them," noted Michelle Abraham, a senior analyst with market research firm In-Stat/MDR.
Maturing Technology
The technology has been maturing. New IP set-top boxes are capable of decoding the H.264 and Windows Media Video 9 advanced video compression schemes. In addition, set-top box suppliers now have a greater variety in their product lines, and they offer cable companies several different types of IP set-top boxes: some geared to support services from large service providers and others geared to small cable companies.
As a result, shipments of the devices have been on the moving up. In-Stat/MDR reported that 2003 was the first year when any single IP/DSL set-top box manufacturer shipped over 100,000 units in a single year, and the firm predicts suppliers will ship 1.3 million units this year. Pricing has been falling from $150 per unit in 2003 to $100 in 2004. As a result, the market research firm expects unit shipments will reach over seven million units and revenue to pass the $700 million mark in 2008.
While there has been progress, the IP set-top suppliers still must overcome a few hurdles. Bandwidth continues to be an issue. "There is enough bandwidth now to support basic video transmissions, but there is not enough for sophisticated services like HDTV that the cable companies have begun to promote," noted Laura Behrens, a senior analyst with GartnerG2.
Customer Interest
Customer interest may also be an issue. "Now, the intelligent set-top box devices appeals to the sophisticated home user rather than the mass market," Parks Associate's Sherf told TechNewsWorld. "The cable companies still need to develop new multimedia services that will interest other consumers."
The lack of end-user interest has been especially true in the U.S. "Currently, most of the IP set-top box shipments and revenue is coming from Europe and Asia, where the network infrastructures have been more fully developed," In-Stat/MDR's Abraham told TechNewsWorld.
Analysts expect set-top vendors to clear these hurdles, but the timing of the market take-off is not entirely in their hands. "Set-top box manufacturers have done a good job convincing a few small cable operators to deploy their products, but the market won't take off until one of the large carriers commits to the technology," concluded GartnerG2 Behrens. "I expect that to happen, but am just not sure who it will be or when it take place."