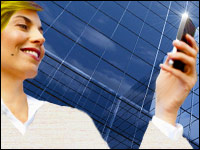 The inventors of Apple's Siri personal assistant have launched an independent effort that could make their first offspring look kind of dumb.
Billed by its creators as "the global brain," Viv aims to radically simplify the world by providing an intelligent interface to everything.
"They are trying to abstract Siri's [natural-language processing] interface so you could apply it into other applications and domains," Raj Singh, CEO and founder of Tempo AI, told TechNewsWorld. "For example, what if I wanted to integrate a Siri-like interface into the Yelp app or the Expedia app?"
Currently, "there isn't a good facility to do this," he said.
'You Can Ask Anything'
One of the big differences between Siri and Viv is that whereas Siri is capable only of performing tasks that it was programmed for, Viv will be able to teach itself, according to Wired.
Viv Labs cofounders Dag Kittlaus, Adam Cheyer and Chris Brigham all worked on Siri before launching their new venture. They reportedly hope consumers eventually will access its artificial intelligence in much the way we do electricity.
While Nuance has natural language processing capabilities, it's "mostly constrained NLP — you can only ask certain things in certain ways" — as opposed to unconstrained, which lets you ask anything, Singh explained.
"The latter is a much harder problem, and certainly if there is a great SDK/tool-set that could be used that can readily enable this integration, it would enable the Siri modality (NLP voice) to be integrated into any platform," he said.
Kasisto, AskZiggy and Expect Labs are other contenders in this space, Singh noted.
'A More Helpful Response'
"It's really about more flexibility and greatly increasing the range of requests and kind of assistance that such an agent could provide to the user," Ross Rubin, a principal analyst at Reticle Research, told TechNewsWorld.
Most of the advances taking place in this arena since Siri's arrival have been focused on expanding the intelligence of such agents on a domain basis, he noted. "Apple, for example, has added intelligence about sports."
Viv appears to be designed "to provide a more helpful response about things that today's agents would throw up their arms about — if they had arms," Rubin said.
Charged with the task of helping a user find a good wine to pair with a certain food en route to his brother's house, for example, "it needs to understand the path to the house, what wine would go well, and what wines are likely to be in stock in-store or in the region," he pointed out.
'Much More Personal'
The term "artificial intelligence" means different things to different people, said Dan Miller, Opus Research founder and senior analyst.
Siri dates back to the era when search engines were turning into "purchase engines" while putting a natural-language interface in front of the transaction, he told TechNewsWorld.
"Even for the most passionate Siri devotees like myself, you do discover the limitations," Miller said.
Now, by refining the intelligent-assistant concept to include machine learning, Viv aims to bridge the gap between "what you articulated and what your intent really is," he suggested.
"What strikes me about this is, to take the rapid recognition of intent to that programmatic level and put an emphasis on machine learning, Viv could become much more personal more quickly," Miller said. "I think it raises the bar in machine learning in a way that can smooth over some of the known deficiencies in Siri, Google Now and Cortana."
'A Gold Mine'
What Viv is targeting is "more advanced commands that require more depth or analysis," Jim McGregor, founder and principal analyst with Tirias Research, told TechNewsWorld. "In other words, figure out how to do what I ask."
Improving artificial intelligence is "an evolutionary process that will take generations — electronic generations," he added, but "true personal assistants will be a reality and a gold mine for those that get there first."