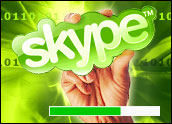 Skype and the mobile network carrier 3 announced on Monday they have launched a handset model to be sold in Europe. The new service will allow Skype users to make free Skype-to-Skype calls as well as send free instant messages from a mobile phone to other Skype users "no matter where they are," the company said.
"Skype is now truly mobile. This handset is incredibly easy to use and lets you make free mobile Skype calls when you are on the move to other Skype users all over the world no matter where they are. It couldn't be simpler — put Skype in your pocket and make free Skype mobile calls and send free Skype instant messages at the touch of a single Skype button," said Michael van Swaaij, Skype's acting CEO.
The Skypephone goes on sale Nov. 2 at 3 Stores in the UK and from Skype's and 3's Web sites.
Free Calling
Skype and 3 developed the handset in partnership with Qualcomm, using Qualcomm's BREW platform, which enables Skype to work with core handset features including address book and messaging.
The 3G Skypephone comes loaded with a 2 megapixel camera, an MP3 player and mobile TV and Internet capabilities. The handset comes preloaded with two games, and users will be able to access both Java and 3-D games. It also offers integrated functionality with contacts and call logs and is Bluetooth-enabled.
About Time
Users have longed for a way to make Skype calls on the go, said William Stofega, an IDC analyst, and now they finally can.
"This is something they've really needed to do for quite some time," he told TechNewsWorld. "The PC-to-PC calling is great, but I'm on the go today and would love to have some way to call my Skype buddies and take advantage of Skype in terms of the client itself."
The technology is great, Stofega stated. A lot of people thought there would be a dual-mode handset out by now on the WiFi side with Skype-enabled calling, but until now it has not happened.
"It's something that adds to the appeal of the product," he suggested.
Risky Business
The delay is in part due to the reluctance of carriers to introduce a handset that would cannibalize their profits.
"How do you make money if you're a carrier? You certainly don't want to migrate those voice minutes off your network. Voices pay the bills," Stofega noted.
Europeans are the first to gain access to the technology, according to Stofega, because they are much more sophisticated than Americans about mobile phones. In addition, Europe also has more upstart carriers that are willing to take a risk.
"Europe and the rest of the world are clearly more sophisticated with mobility as well as what they've been doing with Skype. Skype is where the action is in terms of Europe. They are more sophisticated about mobility than we are and they have been for quite some time," Stofega pointed out.
"Some of the upstart carriers in Europe might be more willing to try new and different models and figure it all out," he continued.
Going Abroad?
There is some chance that the technology could head across the pond to the U.S., Stofega acknowledged.
"There has to be somebody who is willing to step forward. The U.S. is sort of split up by a few dominant carriers. And there are a couple smaller guys out there now who if they can make the numbers work then it's a good thing."