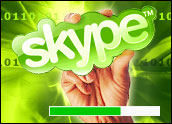 A software problem at Skype left many users of the popular VoIP (Voice over Internet Protocol) service unable to log in or make calls Thursday, and with little hope for relief until Friday, the company said.
"Some of you may be having problems logging into Skype," the company wrote on its support blog at about 2 p.m. Greenwich Mean Time, or about 10 a.m. Eastern U.S. Daylight time, on Thursday. "Our engineering team has determined that it's a software issue. We expect this to be resolved within 12 to 24 hours. Meanwhile, you can simply leave your Skype client running and as soon as the issue is resolved, you will be logged in. We apologize for the inconvenience."
Downloads of Skype were also temporarily disabled, Skype said, adding: "We will make downloads available again as quickly as possible."
Few Specifics Released
It was unclear how many users were affected, or in what regions of the global VoIP service, but several reports indicated that users in Colombia, Brazil, Germany, Finland and the United States were among those unable to use the service Thursday.
Skype officials could not be reached for comment. A spokesperson for online auction giant eBay, parent company of the Luxembourg-based VoIP firm, declined to provide additional information.
While many users take advantage of Skype's service for free long-distance calling on just a casual or occasional basis, others use it for several hours a day, Phil Wolff, managing editor of Skype Journal, told TechNewsWorld.
'Users Will Expect a Follow-Up'
"Skype is being used by more than 200 million people, and the service provides vital links around the world," Wolff noted. It remains to be determined what kind of effect the outage is having on the service's many users, he said.
While the company did not reveal anything more than the fact that a software problem was to blame Thursday, there will need to be a thorough root-cause analysis into the cause of the outage, Wolff said.
"This is going to require some follow-up," he said. "Phone service is part of our social infrastructure and how we live and work, so users will expect a follow-up and a certain degree of transparency."
Effect on Employees?
What may be most interesting of all to determine, though, will be the effect of the outage on Skype's own employees, who rely on the service themselves for their work communications, Wolff said.
"You don't really appreciate your refrigerator until it goes off," Wolff explained. "Skype has become indispensable, so I'm really interested to hear what life without Skype really means."
Founded in 2002 by Niklas Zennstrm and Janus Friis, Skype offers high-quality voice communications to anyone with an Internet connection anywhere in the world using peer-to-peer technology. The privately held company was acquired by eBay in October 2005 for about US$2.5 billion.
Isolated Event?
How big an impact the outage has on the company and its long-term prospects will depend mostly on whether it happens again in the near future, Greg Sterling, founder of Sterling Market Intelligence, told TechNewsWorld.
"I don't think an isolated outage will be a significant problem, even if it's a particularly bad or extended one," Sterling said. "Every one of the VoIP companies has had problems, so it's more a question of whether or not a pattern develops," Sterling explained.
If, on the other hand, there are two, three or even more such outages, users might not be so forgiving, he added. Indeed, social networking site Friendster experienced such a situation, where slow performance over several months resulted in frustrated users, many of whom did ultimately abandon the site, Sterling noted.
"Repeated outages, especially over a concentrated period of a few months, will make people start to look for alternatives," Sterling concluded — "and there are plenty out there."