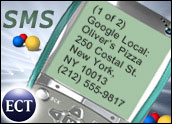 Talk about Short Message Service (SMS) has been lost in the buzz about the latest and greatest data network applications, such as ringtones, gaming, and music downloads. Yet, SMS remains a popular application and a bona fide money maker for carriers. "Because it is such a simple service, it can be easy to ignore SMS but it has been a cash cow for carriers," said Bob Egan, research director at The Tower Group Inc.
SMS offers users a mechanism to deliver short messages over mobile networks. The text only service takes messages, which can be 160 characters or less, from sending systems, places them in a central short message center, and then forwards them to the destination when a user comes online. Initially, users turned to SMS because it was cheaper than calling someone. Since calling would invariably take more time and users were charged by the minute, the cost was more than text messaging.
Discovering Apps
Companies also used the service for niche applications. Many firms needed a simple way to alert mobile workers, such as facility managers or IT technicians, about new developments. With text messaging, they could send a message, such as "The server is acting up" to an IT technician and get him scurrying back to the data center.
While SMS garnered support, few domestic users work with mobile data applications. Market research firm Analysys noted that mobile data accounted for just 4.8 percent of U.S. operators' total mobile services revenue, compared to 15.9 percent in Western Europe and 22.0 percent in Japan. "The SMS market has been much more developed oversees than here in the U.S.," said Bill Hughes, a principal analyst with market research firm In-Stat.
One reason for the lower usage rate in the U.S. was subscribers often could not exchange with individuals who were using other cellular services. "Recently, there were a number of changes so users can now mix and match text messaging services," said Lewis Ward, a senior research analyst with International Data Corp.
Other limitations centered around the underlying technology. The term simple describes the type of messages users could send. The constraint of text only and a maximum of 160 characters meant that users' communication options were limited. In many cases, they were also not able to include items, such as return receipt items with their messages.
Third parties also shunned SMS services. Many carriers relied on proprietary protocols to support their SMS networks. Consequently third parties and application developers needed to implement different interfaces to make their applications work on different networks, a process that drives up their costs. In addition, the SMS protocol was not very efficient, which meant that there could slow data rates and varying degrees of latency.
The cost savings associated with SMS started to fade away as cellular services evolved. Carriers moved to plans that offered users hundreds or even thousands of minutes each month. Consequently, sending a text message was no longer less expensive than talking on the phone.
Beefing Up Services
In response, carries have developed a number of new SMS applications. The short message feature has proven beneficial to those who have a keen interest in specific areas. Users can quickly examine news, weather, entertainment and stock price headlines by entering a keyword like NEWS. In a growing number of cases, these services will automatically download headlines whenever major news breaks.
The service has become a common way to promote television shows. The SMS voting for shows, such as "American Idol" has been extremely popular. Youth rely on it as form of shorthand, with messages like "C ya at 8." "When you examine the numbers, you see that text messaging is a service that skews toward a young demographic," IDC's Ward told TechNewsWorld.
Financial services companies have been using the service to enhance security and guard again identity theft. If unusual activity occurs with a user's account, companies, such as MasterCard International will send an SMS message to a customer's cell phone and then have then verify that they are indeed making the transaction.
Pricing for SMS messages dropped to only a few cents per minute, and some carriers began to offer bulk services where subscribers pay a flat monthly fee and send as many messages as they like. T-Mobile USA, Inc., for example, has a service that allows customers to send and receive 400, 1000, or an unlimited number of text messages each month for prices ranging from $4.99 to $14.99.
Carriers have also developed new uses of the service. Many offer e-mail services over SMS. In this case, each user is assigned an e-mail address at signup and any message delivered to that email account is converted to short messages and delivered to the person's cell phone.
Next Generation
Vendors have been working with next generation SMS services, dubbed MMS (multimedia message services). Here users send voice, graphic, and video clips along with their text messages. Currently, use of this service is relatively low and prices for the service are high, as much as 20 cents per minute.
Despite those issues, MMS usage is increasing and pulling more use of SMS along with it. "There is a big push among music and video producers to use MMS to increase product awareness," concluded IDC's Ward, who expects the percentage of MMS users to increase from 7 percent in 2005 to 18 percent in 2006. "Carriers are finding new uses of messaging technology and users are becoming more comfortable with it, so the market is expanding."