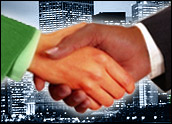 SoftBank has reached a national security agreement with U.S. authorities, perhaps clearing the way for the Japanese company to purchase Sprint Nextel.
U.S. officials have expressed concerns about potential ties between SoftBank and Chinese telecommunications firms like Huawei.
Chinese telecoms drew the ire of Congress in late 2012, and there recently has been rhetoric suggesting that SoftBank's use of Huawei equipment might pose a national security threat.
SoftBank and Sprint have already agreed to several conditions — like, say, giving the Department of Homeland Security and Department of Defense the power to review and veto equipment, as well as the removal of equipment made by Huawei.
SoftBank made a US$20.1 billion bid to take over Sprint Nextel. Dish Network made a $25 billion offer for Sprint in April — and followed it up with a campaign designed to raise concerns about a foreign company operating U.S. telecommunications networks — but as of now, SoftBank seems to be the likeliest suitor.
However, Dish isn't giving up: It released a statement saying that national security concerns were still unaddressed and calling on Congress to review everything — again.
The FCC is examining the deal and will have to sign off before anything is confirmed.
[Source: Reuters]
Australian Gov't Agency Launches Quirky Game
Australia's Bureau of Statistics has released a video game that lets users run a local government.
The game, Run That Town, lets users take virtual control of any village, town or city in Australia. It is different from traditional sim games, like Sim City, in that it uses actual census data from 2011.
The goal is to make citizens happy by choosing the right public projects to approve; haphazard selections will draw the ire of the citizenry. Unpopular decisions will detract from one of the two in-game scoring measures, which are money and clout. Drop too low on either score, and it's lame duck time.
The game is available for free at the iTunes app store.
[Source: CNET]
Anonymous Toys With British Right-Wing Group
Claiming to be linked with Anonymous, hackers have published addresses and phone numbers of people associated with the English Defence League, a far-right group known for its stance against Islam.
The EDL has been spouting extra anti-Islamic rhetoric in the wake of the gruesome butchering of a British soldier by two men who claimed to be on a jihad-inspired fight against the West.
Anonymous UK posted an audio statement on YouTube saying that the EDL has used the high-profile murder to spread hate, and that Anonymous would engage in a "systematic and comprehensive" dismantling of the EDL, which Anonymous referred to as a "cult."
Part of this dismantling apparently included publishing mobile phone numbers for EDL higher-ups, as well as addresses of donors.
[Source: The Guardian]
Amazon Finally Sets Kindle Launch for China
Amazon will begin selling its Kindle e-book reader in China next month.
Kindle in the Middle Kingdom has been a long time coming. The company opened the Kindle Store in China in December, but it has yet to release the device that would allow it to truly cash in.
The delay was in part due to lack of regulatory approval; in China, it can take quite some time to get clearance for wireless electronic devices. That is why iPhones are always released in China months after they're released in the West, for instance.
Amazon signed an exclusive partnership with Suning Commerce Group, China's largest retailer of home appliance by market value.
[Source: The China Daily]