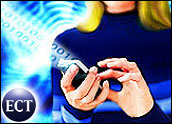 Cell phones have been transformed from mere telephones into handheld computers capable of a variety of tasks, such as supporting e-mail, surfing the Web and transmitting video. Consequently, handset vendors have been focused on enhancing their products' software capabilities, which means adding more support for software development tools to the devices and convincing third party software suppliers to develop applications for them.
"Like many other market segments, the handset area has been moving away from a hardware focus to one centered on software," said Bob Egan, service director, emerging technologies, for market research firm The Tower Group.
The change is taking place for a few reasons. First, vendors are finding it harder to differentiate their products. "There really isn't any emerging hardware technology, like camera phones a few years ago, where you say, 'Wow, just about every user would like that functionality,'" noted Neil Strother, an industry analyst with market research firm The NPD Group.
Winds of Change
Improvements are also coming because the stakes have been raised in the handset space. "Smartphones — those that take advantage of the new data capabilities — make up a small portion of the cell phone market now, but they are a market segment that has been growing and offer vendors a way to maintain product pricing," The NPD Group's Strother told TechNewsWorld.
Evolving technology is another factor in the change. As handsets have gained multiple gigabytes of storage, more functional screens, more powerful audio capabilities and video functions, the devices have become more PC-like. Consequently, vendors have been trying to deliver products that provide users with more complete experiences, such as surfing the Web or watching video clips. Software drives those capabilities, so handset vendors need to find ways to make more software available on their systems.
The first hint of this change came with the emergence of full-function handheld operating systems, including Symbian and Microsoft's Windows Mobile OS. To be successful, an operating system needs two things: a wide range of application development tools and a number of third party supporters. Handset vendors have been trying various techniques to deliver those functions.
In September, Nokia, one of the driving forces behind the Symbian OS, announced Carbide c++ Developer Edition and Carbide c++ Professional Edition, two suites geared toward enticing third parties to build applications that run on Symbian. The company also hosted a software developers' conference focusing on delivering multimedia applications on handheld devices.
Pushing Ahead
In addition, Nokia has been working with cellular carrier Vodafone to launch a standards initiative to make it possible for software makers to develop Java applications that can run across cellular phones built by different manufacturers. The new Mobile Service Architecture Initiative plans to create its specifications within the Java Community Process, the standards body led by Java creator Sun Microsystems.
The Nokia initiative, which is supported by other major mobile phone makers, aims to modify existing specifications within the Java 2 Micro Edition set of standards and define a consistent architecture for mobile applications. The goal is not to create new Application Programming Interfaces but to use existing ones to create new mobile applications. Nokia and Vodafone are also proposing security enhancements and development of a framework for uploading and managing software components sent to mobile devices.
Last May, Motorola also moved more directly into the software market with the announcement of its MotoDev portal, which is designed to increase the number of applications available on its phones. The portal provides developers with software programming tools, software development kits and various types of marketing materials and initiatives.
The focus on software is putting handset vendors in touch with new partners. Recently, Nokia worked with Yahoo to put Yahoo Search into Nokia's Mobile Search application. The new features enable users to find and connect to local services, Web sites, images and mobile content via Nokia Nseries and Nokia S60 handheld devices. Yahoo also has a deal that allows mid-priced and high-end Motorola phones to support Yahoo Go for Mobile, an integrated set of services that consolidate Yahoo's e-mail, search and address book in one place.
Beware of the Behemoth
As handset vendors move into the software arena, they run into new competitors — most notably, Microsoft. That company has tried to leverage the success of its Windows operating system on the desktop and in the data center for a slice of the cell phone operating system pie. It's a formidable competitor, say analysts.
"Microsoft's big advantage is, its products are compatible with its large base of desktop applications," said The NDP Group's Strother.
It designed its Windows Mobile OS to be compatible with its Outlook e-mail system, Internet Explorer Web browser, instant message capabilities with MSN Messenger, and multimedia features via the Microsoft Windows Media Player. In addition, the company's Visual Studio development environment has been a favorite among third parties, who have used it to build additional Windows Mobile apps.
Which vendor takes the most successful approach in this market is unclear at the moment because there are strong and weak points in all of their product lines. What is clear, however, is that the significance of software in the cell phone market will only grow larger.
"In the future, handset vendors will need to have a sound software strategy in order to market their products successfully," concluded The Tower Group's Egan.