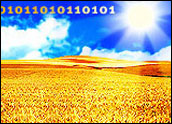 A manned solar-powered airplane took off in the early hours of Wednesday morning for a 24-hour trip that will include its first nighttime flight.
After being postponed last week, the flight began at 6:51 a.m. local time, when the Solar Impulse HB-SIA aircraft took off from the Payerne airbase in Switzerland with Andre Borscherg, CEO and cofounder of the Solar Impulse project, at the controls.
"For seven years now, the whole team has been passionately working to achieve this first decisive step of the project," Borschberg said before easing himself into the cockpit for a flight expected to last until Thursday morning.
On the "cockpit" section of the Solar Impulse website, followers can track the aircraft's altitude, air speed and myriad other factors. Other interactive tools offer a 3-D animation and a view of several key charts.
Battery Power Overnight
Over the course of the day on Wednesday — until about 7:30 p.m. local time — the prototype aircraft will slowly ascend to an altitude of 8,500 meters, while at the same time charging its batteries in preparation for the night flight.
About two hours before sunset, when the sun's rays stop being strong enough to supply the solar cells with more energy, the HB-SIA will start a slow descent, reaching an altitude of around 1,500 metres by 11 pm. It will then use the energy stored in its batteries to continue flying until sunrise on Thursday morning.
The big question is whether the pilot can make efficient use of the battery energy to fly throughout the night.
If this mission is successful, it will be the longest and highest flight ever made by a solar plane.
Another First
The flight also represents the first test of this length with people on board, Eric Raymond, president of Solar Flight, told TechNewsWorld.
Raymond has participated on the Solar Impulse project and is currently working on a two-seater solar aircraft that will be ready next summer, he said.
With a wingspan of 63.4 meters — the same as an Airbus A340 — and a length of 21.85 meters, the Solar Impulse craft weighs 1,600 kg. It includes 11,628 solar cells — 10,748 on the wings and 880 on the horizontal stabilizer — as well as four electric engines.
Its average flying speed is 70 kilometers (43 miles) per hour.
The Speed Differential
That speed, in fact, is currently a limiting factor when it comes to widespread use of solar-powered aircraft, Raymond pointed out.
Typical coast-to-coast jets, by contrast, travel at more like 600 miles per hour.
"When people are in a hurry, they like to fly at high speeds," he explained. With solar aircraft, "that's not going to be possible for some time."
On Raymond's own craft, he can fly at altitudes as high as 21,000 feet with the plane's windows open, he said.
Looking ahead, then, the next steps in solar flight will be to increase both flying speeds and payload capabilities, Raymond added.
'One of the Bright Spots in the Global Economy'
"The notion of having solar-powered aircraft is an interesting one," Brad Collins, executive director of the American Solar Energy Society, told TechNewsWorld.
Currently, there are also electric airplanes under construction in China, Collins noted.
"If you had a technical marriage between solar on the wings and electric power, you could really start to impact not only the global influences of flight but also efficiencies and costs," he suggested, noting that fuel is currently the No. 1 cost in traditional air travel.
After two less-than-stellar years, the solar energy industry should return to growth rates in the 60- to 100-percent range in 2010, Collins added.
"Solar is one of the bright spots in the global economy," he concluded, "as more people are realizing that it's the energy source of the future."