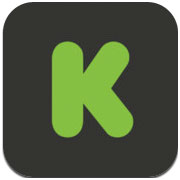 Small, lightweight and efficient solar panels coupled with lithium batteries are making inroads into the outdoor retail market as a solution for charging mobile devices.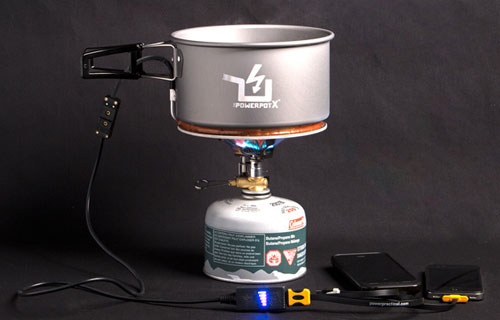 Flexible solar panels check many boxes, not least seductiveness. However, if you've tried them, you'll know there are drawbacks. Solar charging can take time — even if you're often in full sun, you can be hiking through tree canopy with the panel tied to your pack, and shade interrupts the job. In inclement weather, the battery might not charge at all.
Kickstarter project creator Power Practical thinks it has a solution with PowerPot X, its new thermoelectric generator with a twist. The device is a portable generator that turns camp cooking heat into device-charging electricity — create power while cooking, in other words.
The PowerPot X, now hunting for funding on Kickstarter and beating its US$30,000 goal in just a week, is based on PowerPot V, an award-winning bit of camping kit launched on Kickstarter in 2012.
This version is improved, larger and should produce more power; if the creator has gotten it right, it could take the technology mainstream this time.
How It Works
The PowerPot concept uses a form of power generation called thermoelectric, Peltier or Seebeck-effect generation, which functions by converting heat into electricity.
Voltage occurs when heat moves electrons from the hot side of a bimetallic thermoelectric material to the cold side. For the physicists, you'll know it's a basic form of electromotive force.
Technical difficulties include lack of efficiency and keeping the cold side cold so that the electrons keep moving and the power continues to be generated.
This technology has been plagued with poor power output levels and has previously been unusable for tablets — hence the need for an improved version of the PowerPot.
Technical Details
This creator reckons that this version of the PowerPot will be able to produce 10 watts, which will handle the 2 amps that tablets need.
Encapsulated thermoelectric modules are protected from the heat source, which can be open flame, by an aluminum bottom. A weatherproof, high-temperature silicone casing, aluminum pot and folding handles make up the water container.
A flame-resistant composite cable with connector attaches to a power regulator with built-in power meter and dual USB outputs.
The PowerPot's tagline: "The Most Powerful Pot on the Planet."
The NumbersPower Practical currently has roughly 250 backers for its PowerPot X project pledging more than $42,000 of a $30,000 goal. The funding period ends on Jan. 15, 2014.
A pledge of $165 gets you an early-bird 2.4-quart PowerPot X along with a dual USB output charging cable with built-in power meter, lid and carry bag. A pledge of $199 gets you an early-bird 4-quart version along with the same package.
The estimated delivery date is May 2014.
The Upsides
Electricity as a byproduct of cooking: We think this device makes total sense for the camping gearheads out there, because one often doesn't get around to chores — phone, action camera and other gadget maintenance — until camp, when it can be dark and solar panels obviously don't work at all in the dark.
Plus, as any multiday hiker will attest, less payload equals better experience. The weight and space-savings gains associated with combining power source with cooking gear — in other words, reducing heft — is an intriguing proposition.
The Downsides
You need to use water or other liquids like soup in this pot. Solid foods damage it, so it's impractical for any gourmet camp cooking — you'll still need a basic pot for any mountain glop fricassee you want to devise.