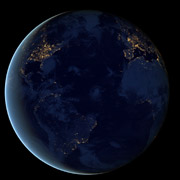 The European Space Agency has predicted that when its fuel-less, Earth-bound, 2,000-pound research satellite crashes, it will likely crash into the ocean or polar regions.
The satellite was expected to crash down some time on Sunday or Monday, according to the agency, which added, "with a very high probability, a re-entry over Europe can be excluded."
Good news for Europeans, bad news for polar bears.
The satellite will most likely disintegrate upon its descent, according to experts, leaving but a few pieces that will weigh more than 150 pounds.
The satellite, GOCE, was launched in 2009.
[Source:The Associated Press]
British Spy Agency Used Fake LinkedIn Pages to Collect Data
Britain's main intelligence agency deployed fake LinkedIn pages to target employees of a pair of Global Roaming Exchange providers, according to a report from German magazine Der Spiegel.
GRX providers act as a sort of interchange for mobile Internet traffic. There are a couple dozen GRX providers, and the new surveillance revelations discuss two in particular: Comfone and Mach.
Britain's Government Communications Headquarters, or GCHQ — the rough equivalent of the NSA — used imposter versions of LinkedIn and Slashdot, a news site, to implant malware.
The arrangement apparently requires a surveillance body to embed a secret server "at key places on the Internet backbone," in the words of security expert Bruce Schneier. That, in turn, requires that the snoopers have partnerships with telecommunications companies.
The placement of the secret server lets it react before a website does, thereby letting the NSA or GCHQ impersonate a website such as LinkedIn.
The lead author of the Der Spiegel piece is Laura Poitras, one of the journalists known to have the keys to the complete cache of Edward Snowden's leaked documents.
[Source:Der Spiegel via Ars Technica]
China's Annual Online Shopping Day Leads to Huge Hauls
"Single's Day," celebrated annually in China on 11-11 — get it? – resulted in huge sales for China's e-commerce king, Alibaba.
Alibaba's online shop, Tmall, pulled in more than US$164 million in the first six minutes. Last year, it took a molasses-like 37 minutes for Tmall to hit that mark.
The whole 11-11 thing started in 2009. In 2012, the November 11 sales went into the record books as the biggest shopping event in the world with more than $3 billion spent online, crushing the $1.25 billion spent on America's "Cyber Monday" in 2011.
This should come as good news to Beijing, which has made no bones about wanting China to be the world's top e-commerce market.
[Sources:The Register; Alibaba]
Anonymous Hacks Singapore PM
People claiming to be part of the hacking collective Anonymous are taking credit for commandeering the official website of Lee Hsien Loong, Singapore's prime minister.
Lee, perhaps unwisely, said that he would track down the group after an Anonymous member posted a video threatening to hack government sites. A day after Lee's threat, his website was hacked.
The hackers posted an image of Anonymous' trademark Guy Fawkes mask, along with the words, "It's great to be Singaporean today."
Anonymous presumably decided to bring their unique brand of justice to Singapore because of media regulations requiring popular news sites to obtain licenses — and agree to the terms of the licenses, which aren't necessary free speech-friendly. Anonymous folks had referenced these new rules in an online video.
[Source:BBC]
$1 Million Worth of Bitcoins Stolen
Hackers stole more than $1 million worth of Bitcoins from the payment processor inputs.io, according to the site's owner, whose online pseudonym is TradeFortress.
TradeFortress posted a message saying that the attacker(s) penetrated the hosting account via old email accounts. The theft took place in late October.
TradeFortress will attempt to personally pay back customers who had more than 1 Bitcoin stolen; Bitcoins are currently valued at about $330. Some people have apparently written to TradeFortress, accusing him or her of taking the money.
[Source:The Guardian]