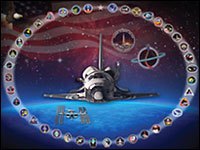 Faulty seals are NASA nemeses, bringing down the Space Shuttle Challenger in 1986, delaying the Shuttle Discovery's launch late last year, and now hampering the space walking abilities of Shuttle Discovery astronaut Steve Bowen, whose space suit experienced a minor leak just before he set out to circumnavigate the International Space Station (ISS) Wednesday.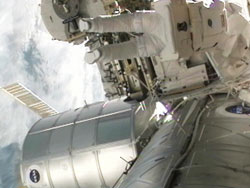 Mission Specialist Alvin Drew works outside the International Space Station during the second STS-133 spacewalk. (Image credit: NASA TV)
With astronaut Alvin Drew, Bowen was on the mission's second and final spacewalk, as Discovery heads into retirement after returning home.
"This leak was an extremely minor issue that delayed the start of the spacewalk by about 15 minutes," said NASA spokesperson Michael Curie.
It was also fixed quickly, without incident.
"Sounds like it was handled well, demonstrating NASA's ability to detect problems and respond safely," said Simon Fraser University PolyLab director Stephen Braham, an expert on human space flight. "There will be no impact to any future space walks."
Uh Oh, O-Ring
When Nobel laureate Richard Feynman discovered that a simple O-ring — a rubber seal — failed, bringing down the Challenger and her eight-person crew, the world gasped. It was such a simple thing. How could it have been missed?
Though much smaller, a similar problem caused Bowen's spacesuit to leak. Fortunately, it wasn't missed.
"It turned out to be a small o-ring that fits into a lithium hydroxide canister on one of the spacewalkers' suits," NASA's Curie told TechNewsWorld. "The o-ring is like a plumbing washer."
The lithium hydroxide canister scrubs the air inside the suit of carbon dioxide, a breathing waste product. Pre-walk safety measures caught the leak before it could harm Bowen, potentially depressurizing his suit or sucking his breathing oxygen into deep space.
"Part of the safety process calls for a full leak check while inside the airlock before ever going into space," Curie explained. "This leak was detected at that time, and was found and corrected with a replacement o-ring."
The ring repair set the crew back by a few minutes, but "no one ever was in any danger," Curie emphasized.
Though Congress has been insisting that Discovery's mission be "safe" because prior missions have had serious safety issues, "I don't think this space suit leak will have an impact," SFU's Braham told TechNewsWorld. "In human space flight, we have checklists and procedures for everything. Discovery of a lithium hydroxide canister seal issue is exactly what the checklist is supposed to detect."
On Tap Today
With his space suit fixed, Bowen joined Drew to vent residual ammonia from inside a spent cooling pump that broke down last year and was replaced during a previous spacewalk conducted by ISS astronauts.
The spacewalk also included investigation of a loose radiator part, installation of a new flood light on a cart that moves cargo along the space station exterior, and installation of camera components and insulation on a maintenance robot's camera, including a lens cap to protect it from damage.
The mission's first spacewalk, conducted Monday, successfully adjusted the robotic camera but caused a cover to fall over it, partially obscuring Mission Control's view. The astronauts were tasked with fixing this problem during today's spacewalk. Drew was also scheduled to remove thermal insulation from the ISS Tranquility module.
Today's spacewalk concluded at 4:56 pm EST.