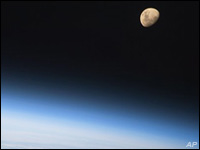 Private commercial space travel took one small step for humankind Wednesday morning as the SpaceX Falcon 9 rocket launched from Florida's Kennedy Space Center.
Dragon space capsule in tow, the Falcon 9 represents a US$400 million investment from, among others, SpaceX CEO Elon Musk, who cofounded online payment company Paypal.
Though cargo is the only for-profit payload at this point, Spaceport America, Virgin Atlantic, SpaceX and other firms are gearing up to transport space tourists within the next few years.
"If everything goes well, this is one of the most historic days in space flight," said Simon Fraser University PolyLab Director Stephen Braham, a senior researcher for the Canadian Space Agency-funded Mars Canada project. "With the first-ever commercial re-entry of a spacecraft, Dragon will open up the way to all of us, including academia and industry, moving our work into space. This is an extremely exciting time!"
Fleeter Feet?
Expected to retire its shuttle fleet in 2011, NASA awarded SpaceX a $1.6 billion contract to transport cargo into space.
However, why NASA selected SpaceX over other competitors, SpaceX spokesperson Kirstin Brost couldn't discern.
"You'd have to ask NASA," Brost told TechNewsWorld.
One reason may involve reduced public and NASA budgets, which are propelling the nascent field forward. Another reason: Private industry may prove a fleeter, more competitive way to venture into space.
"SpaceX is able to cut costs in many areas, such as personnel, negotiating with vendors for better pricing, and perhaps utilizing commercial off-the-shelf parts when practical," explained Lord Cole, an aerospace engineering PhD graduate student at UCLA's Energy & Propulsion Research Laboratory, who has been following the development of SpaceX's new heavy-lift rockets.
"There is a lot of bureaucratic red tape associated with NASA-developed systems," Cole told TechNewsWorld.
Funding the future is also a better fit for private enterprise, Braham explained.
"NASA needs to move from simply taking people to and from low Earth orbit and the International Space Station to finally exploring deep space," he told TechNewsWorld. "Dragon will allow that to happen, at far lower costs than has been possible for NASA. It has the potential, one day, to carry humans to both the station and future deep space exploration spaceships."
NASA did not return TechNewsWorld's calls for comment, and SpaceX's Brost insisted any further questions be "emailed to me, and I'll try to answer them when I get time."
Dragon Dimension
SpaceX's Falcon and Dragon are part of a new breed of commercial space payload purveyors that include Orbital Sciences Corporation's Pegasus, Taurus and Minotaur systems.
"This first operational version of SpaceX's Dragon is a novel general spacecraft that will eventually be able to launch and recover cargo from space, and will also be able to be upgraded for flying humans to and from space," PolyLab's Braham said. "It is a super-clever design that is very clean, resulting in low costs and ease of debugging."
Two system problems with Falcon 9 were debugged "in a couple of days this week — something that has been impossible before," Braham explained.
Wednesday's Dragon test drive — meant to simulate the size, weight and dimensions of a standard cargo load delivered by the shuttle — represents "a lot of complexity" involving the launch, deployment of the Dragon capsule, and re-entry, UCLA's Cole explained.
A successful mission will represent one giant leap for commercial space entrepreneurs, he added.
"They can show that they can perform missions that have been almost exclusively left to the 'big boys' like NASA, the European Space Agency, and other government space organizations — but now they're going to do it cheaper," Cole explained.
"The landing has worked!" Braham declared, on the latest SpaceX Dragon news, "making massive space history!"