The most common complaint that people have about their computers is slow performance — screens that seem to loadmore slowly, emails that seem to "hang" before opening. Too many users are frustrated by seeing their expensivemachines become bogged down by factors that are hard to identify, making the machines less efficient long beforethey've grown obsolete.
So what's happening when your computer slows down?
The most crucial factor that affects a computer's speed is the way it uses memory. Whenever your PC runs a program, aportion of its memory is being used. What you may not know is that there are potentially hundreds of programs runningat any given time. These include word processors, browsers and games, as well as hundreds of behind-the-scenesapplications that manage the distribution of data.
Speedup Method 1: Control Startup Entries
Lots of applications come with a helper program that runs in the background. They help the bigger program load faster.Sometimes helper programs are installed that constantly contact the Internet, looking for updates. These helpers are allset to run when the computer starts, increasing the time it takes for your PC to boot.
The easiest way to speed up your computer is to decrease the number of programs set to run on startup. To managethese, Windows has a built-in dialog that's easy to control: the Microsoft Configuration Menu or MSCONFIG.
To access it in Windows XP or 7, open the Run Command Menu:
In Windows XP, click the start menu and you should see the Run option on the right-hand side.
You can also access the Run Command Menu by clicking the Windows Key plus the R key.
This prompt lets you enter commands directly to Windows. To access the Microsoft Configuration Menu, typethis word: msconfig.
This will bring up the Configuration Dialog. There are several tabs on this dialog, but the one we're concerned with isthe one labeled Startup.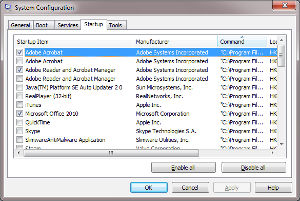 (click image to enlarge)
These are the programs that are set to run when Windows runs. There's a checkbox beside each program that you cantick or leave blank. When you leave it blank and click Apply, you tell your computer to stop running that application onstartup.
So how do you choose which programs to stop?
Windows only posts programs on the MSCONFIG list that are not vital to your system. That means you can disable all ofthem, and nothing bad will happen to your computer. Here's what happens when you disable startup entries:
Some programs don't activate automatically. Stopping applications from running on startup means that they don't comeon automatically. Instead, they can be turned on manually.
Pre-loaders don't activate. Pre-loaders load portions of large applications before you need them. Without this pre-loader,the application runs fine, but it may take a few more seconds to load.
Update Monitors don't activate. Update Monitors are little programs that routinely contact the Internet and look forupdates. Without the startup menu, you can update these programs manually.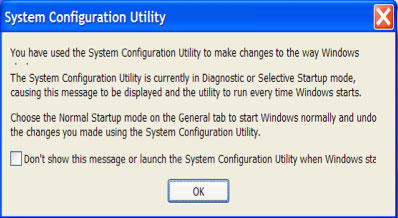 Once you've Applied the startup configuration you want, click OK. Windowswill tell you to restart your computer. Select Restart. When it comes back on,you may see a message that alerts you that startup entries have been changed.That is just there to let you know changes have been made.
Try disabling all of the startup entries and see how your computer performs.Through a bit of testing, you can find the perfect balance for your PC.
Speedup Method 2: Uninstalling Unnecessary Programs
The second easy step you can take to speed up your PC — and remove some clutter — is to uninstall programs you no longeruse. To access the Add/Remove Programs dialog
in Windows XP, Open the Control Paneland click on Add/Remove Programs;
in Vista or Windows 7, open the ControlPanel and click Uninstall a Program.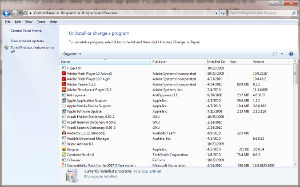 (click image to enlarge)
The best method for removing programs is to simply scroll through the list and identify applications you don't use.By removing unneeded programs, you not only free up hard drive space, but you lessen the potential for unusedapplications to cause problems or insert startup entries.
If you're unsure about a program, leave it be. There's plenty of room for adjustment here as well, since you can assesshow much you use that program over time: Give it a trial run if you wish. Like the startup applications in the MSCONFIGmenu, the programs in this list are non-vital. That means that there is nothing here that you can uninstall that willinterrupt your computer's functionality.
We hope that these two tips will help you not only speed up your computer but take control of its functions. They'renot hard, but they can make a significant difference in how your PC acts on a daily bases.