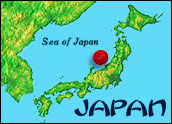 Google Street View has had its share of intrepid adventures — Antarctica, say, or Everest Base Camp.
However, the Google Maps service has a sober side, too.
Street View just unveiled startling images of Namie, a Japanese town firmly planted inside the evacuation zone described in the wake of the Fukushima nuclear power plant disaster.
Google mapped out part of the tsunami zone in 2011, but the recent images are far more wrenching — rubble, abandoned houses and not much else.
Among the landscape's few features are boats that were washed ashore more than two years ago.
Because of radiation leaking from Fukushima, residents were ordered by the government to relocate. They are allowed to return no more than one time per month — and only briefly, at that — to check on their homes. Some experts have estimated that the most contaminated areas could be uninhabitable for years or decades.
[Source: Street View, The New York Times]
North Korea's Shoddy Military Photoshop
North Korea was caught photoshopping a would-be intimidating photo of a military exercise.
Someone had the bright idea to double the number of hovercraft in a photo depicting military personnel practicing a shoreline assault. Alas, the image showed vessels with identical reflections and identical trajectories; the water spray kicked up by the boats has also been ridiculed.
The photo showed signs of "excessive digital alteration," according to AFP.
North Korea is not alone when it comes to repressive regimes trying to photoshop their way to military intimidation. Iran was exposed for twice photoshopping a fighter jet; that came after a photoshopped rocket launch.
While North Korea is getting ribbed over its Graphic Design 101-styled images, there does nonetheless seem to be a legitimate uptick in hostility toward South Korea. Kim Jong-un, the nation's leader, has been discussing nuclear war, for starters.
What's more, North Korea, which was sanctioned by the UN in February for a nuclear test, nixed a "military hotline" with South Korea that the two nations used to avoid misunderstandings.
[Source: The Age]
Egypt Arrests Cable Cutters
Three divers caught trying to cut through an underwater Internet cable were arrested in Egypt.
The suspects, nabbed in a fishing boat outside the port city of Alexandria, are believed to have caused a plunge in Internet speed in Egypt and other nearby countries. There was also cable damage last week, although it's unclear if the incidents are related.
A motive has not yet been established.
[Source: BBC]
Apple Taken to Court in China
In a Shanghai court, a Chinese firm formally accused Apple of lifting copyrighted software for its Siri personal assistant feature.
The accusation came from Zhizhen Network Technology, which claimed that Apple infringed its patent for voice recognition software.
This is not the first time a Chinese company has come after Apple on copyright grounds. Last July, Apple paid Proview Technology US$60 million to end a lengthy dispute over the "iPad" trademark.
Zhizhen will ask Apple to stop manufacturing and selling infringing products — this would include iPhones — "once Apple's infringement is confirmed," a company lawyer said.
[Source: AFP]