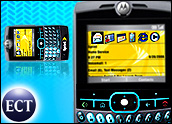 Americans would rather give up their televisions or the Internet rather than do without their mobile phones, according to a report released by the Pew Internet & American Life Project Wednesday.
Researchers found that a little more than half — 51 percent — of respondents who use wireless phones said it would "be very hard to give up" their cell phone versus 45 percent and 43 percent for whom ditching the Internet or television would be a struggle.
Disconnecting their land lines would be tough for 40 percent of those with a home phone, while going without e-mail and a wireless e-mail device would be too much to bear for 37 percent and 36 percent of the users surveyed, respectively.
The numbers represent a flip-flop among the importance of technology from surveys conducted in 2002 and 2006. Six years ago, the bulk of respondents — 63 percent — said it would be hard to give up their land line, with 48 percent claiming a similar issue in 2006.
Hit Me on My Cellie
According to Pew, the survey's findings indicate that nearly two-thirds, 62 percent, of all Americans are part of the wireless, mobile population that participates in digital activities away from home and work.
Of the 2,054 adults interviewed for the survey, 58 percent said they had used their cell phone or PDA for non-voice data activities, including texting, e-mailing, taking a picture, looking for maps or recording video.
That was one of two surprises the survey revealed, said John Horrigan, associate director of the Pew Internet Project.
"One was the overall level of people using their cell phone for non-voice data applications. On a given day, among cell phone users, 42 percent of those users are doing something other than trying to make a call on their cell phone," he noted.
Of the 75 percent of respondents with either a cell phone or PDA, 31 percent send or receiving text messages; 15 percent take pictures; 8 percent play games and another 8 percent send or receive e-mail.
Young adults, Hispanics and African-Americans are "leading the way" in the mobile data access world. A majority of twenty-somethings and Hispanics said they would find it most difficult to shut off their mobile phones. They were also more likely to say that it would be harder to go without their cell phone than the Internet or e-mail.
The Second Surprise
"Secondly, we were a bit surprised at the demographic breakout of some of the users who use their cell phones for non-data applications. African-Americans and Hispanics were particularly active in using those sorts of applications on their cell phones," Horrigan explained.
It comes as a bit of a surprise, he said, given the digital divide that has existed among computer users surfing the Web.
"Ten years ago, when the Internet was becoming part of the mass culture, it tended to be something that white males did, if you study the demographics from a decade ago. In wireless, we're seeing that people who traditionally trailed in desktop access to the Internet are very, very active in mobile access," Horrigan told TechNewsWorld.
That is attributable, he noted, to the greater accessibility those groups have to cell phones and smartphones, which are generally less expensive than desktop or laptop computers. Secondly, mobile handsets require less time to learn.
"Access is built on an application everyone is familiar with — making a phone call — whereas it can take some skills and learning to set up a computer. People tend to be a little more comfortable dealing with a cell phone."
A Nation of Communicators
None of Pew's findings regarding usage of mobile phones came as a surprise to David Chamberlain, an analyst at InStat. One thing did shine through load and clear to him.
"Communication is important. Entertainment is not," he told TechNewsWorld.
Cell phones are also a great equalizer in the U.S. and on a global basis. Many people in developing nations may not have regular access to electricity, running water, sanitary sewer systems or the Internet, but they can — and do — have a cell phone. In addition, those phones are becoming even more vital as we start to move financial services to them as well, Chamberlain explained.
"I have no doubt that we are entering a new age — very soon, although it's not yet obvious — that will be represented by a new generation of mobile devices that will provide us access to the digital communications and entertainment that we've come to rely on our PCs for," he continued.
Far from reaching a plateau, interest in mobile devices will continue to grow as they evolve into a different class of devices that are higher functioning and not necessarily centered on being phones.
"The iPhone is definitely the harbinger of this movement, but Google's Android could also be useful for moving us in the direction. Nokia's tablet is another similar product. Using multiple networks for connection will be very important," Chamberlain pointed out.
"Today, most of us are still connected to the wall for our entertainment — cable TV and Internet — and for our socialization — Facebook, MySpace and other social networks — as well as shopping and news. It'll all go with us. And sooner rather than later," Chamberlain concluded.
Data To Go
With Web browsing on the mobile phone continually increasing, it is not surprising that a high number of people are using their smartphones for access to data, said Ryan Reith, an IDC analyst.
The growth in this space puts a lot of pressure on the software and hardware manufacturers to create a solution that closely resembles the PC.
"In years past this wasn't as high of a priority because even if the solution was there we still has the issue of slow networks. Now that networks have built out and matured we are seeing the demand for a viable Web solution on the mobile device," he explained.
For many reasons — e-mail, multimedia, Web browsing, etc. — people are tied to data, whether it be via the PC or a mobile device. Now that the solution is there for people to have a good mobile data experience, Reith told TechNewsWorld, the obvious attraction occurs.
"The attachment to the mobile device has almost become the same as one's attachment to their wallet or keys. If you don't have it you feel lost. This is because of what the device holds and what it can do for you. For a lot of people the mobile phone now acts as their only means of communication with friends, family and work when on the go. I think the attachment is even greater for people who use the device for all the capabilities that it has — like e-mail, calendar, contact, etc.," he added.