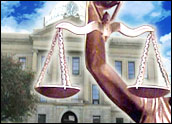 A Swedish court reduced the fine for a teenage boy who uploaded a pornographic video of his unwitting then-girlfriend.
The original fine was going to be about US$20,000 but was reduced to less than $4,000 after the ruling.
Notably, the court justified its decision by asserting that young people are "so open" about their sexual behavior that such a large fine was unjustified: "…it has with time become increasingly socially acceptable to be very open and outgoing in regard to one's sexual habits."
The boy, then 17, uploaded an intimate video to numerous porn sites, later claiming that he didn't think the video would be seen so many times.
[Source:The Local via The Register]
Pirate Bay Founder Asks Sweden to Reject Danish Extradition
Gottfrid Svartholm, a founder of The Pirate Bay, sent an open letter to the Swedish government asking it to not extradite him to Denmark. He has also appealed to the Swedish Supreme Court, which will no doubt postpone the extradition scheduled to take place next week.
Svartholm is already slated to spend a year in Swedish jail for hacking into Logica, an IT company. However, Svratholm also stands accused of hacking into CSC, another IT company, and downloading oodles of Danish files, including police records.
Svartholm has asked Danish authorities to drop the case, claiming that while the CSC hack was indeed carried out on his computer, it wasn't him doing the hacking. He is also claiming that the arrest warrant he received was incomplete — because it didn't include a detailed description of the alleged crime — and that he couldn't read the attachments referenced in the warrant because they were written in Danish.
Svartholm claims that if he is extradited, it would be a violation of international law.
[Source:TorrentFreak]
HTC Puts Lack of Money Where Its Mouth Is
In what could be tangible evidence that Taiwanese smartphone maker HTC is in as much trouble as some have been saying, the company has stopped at least one of its four primary manufacturing lines and is outsourcing production, Reuters reports.
Earlier this month, HTC reported the first quarterly loss in its history. The company is dealing with slumping sales of its flagship "One" series as well as suspicions that employees dished trade secrets to Chinese rivals.
HTC has denied shutting down any production facilities and isn't commenting on whether or not it is outsourcing production.
[Source:Reuters]
Chinese Sports Lottery Outfit Seeks US IPO
An online sports lottery operator in China, 500.com Ltd., has filed for a $150 million initial public offering in the U.S.
The company didn't say how many shares it will offer, or at what price they would be offered.
The announcement comes as a pair of China-based Internet outfits — 58.com Inc. and Qunar Cayman Islands Ltd. — build toward their own IPOs.
500.com offers betting services through Web and mobile apps. It says its users have swelled to 18.4 million, up from 8.8 million at the end of 2010.
[Source:Bloomberg]