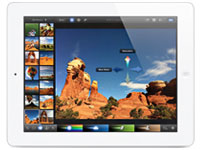 Syrian rebels have taken to using an iPad app to help guide mortar fire.
Rebels were photographed using an iPad reportedly equipped with the iHandy Level Free app, deployed as a method for ensuring that the mortar tube is level.
Novel though this may be, Business Insider reporter Paul Szoldra, who served in the U.S. Marine Corps for nine years, is dubious of the iPad's effect. Even with the iPad, he says, it looks like the rebels are "dropping a round and praying."[Source: Business Insider via The Washington Post]
GTA Sadly Comes to Life for UK Gamer
In north London, a man who claimed one of the first copies of the much-anticipated Grand Theft Auto V video game was stabbed and robbed of the game while heading home with his new purchase.
The 23-year-old victim was hit with a brick and stabbed. The assailant proceeded to steal his mobile phone, watch and, yes, copy of GTA V, a game that — either coincidentally or prophetically — is chock-full of such violence.
The victim is reportedly in stable condition.
GTA V is the latest in the proud lineage of GTA games. It reportedly cost north of US$250 million to produce and is expected to generate more than $1 billion in sales.
[Source:The Guardian]
China's 'Big Vs' Trying to Lower Profile
Some of China's "Big Vs" — a term for popular verified accounts on China's social media platforms — are trying to skirt the limelight by removing their verified status.
As with exceptionally popular Twitter accounts, China's social media platforms often brands certain accounts as "verified," to confirm the person's identity. Problem is, China is in the midst of an online rumor crackdown — or just a plain old crackdown, given the malleability of Beijing's definition of rumor.
Thus, Big Vs are reportedly getting antsy and un-verifying their accounts.
One "Big V," Xue Manzi, recently pulled a miraculous — a bit too miraculous, perhaps — one-eighty as he went from online critic to pro-Party propaganda pusher. On Sunday, he appeared on Chinese state media to decry his online musings — he chocked it up to his "negative mood" — and say that "freedom of speech cannot override the law."
[Source: Offbeat China via The Register]
Huge Deal in the Chinese Web World
Tencent Holdings, China's biggest Internet company, is investing nearly $450 million in the search engine Sogou, good for a 36.5 percent stake in the company.
Tencent made its mark in online games, social networking and messaging services. This purchase, however, seems to signal its intent to compete with rivals such as Alibaba — the nation's top e-commerce company — and Baidu, the top Chinese search engine. Both Alibaba and Baidu have been branching out into more and more services, so Tencent's foray into search engines is a logical move.
[Source:The New York Times]
UK To Test Mobile Emergency Alerts
This fall, British authorities will test a system that sends emergency alerts to mobile devices.
Up to 50,000 people will receive the test messages, which are designed to coordinate evacuation and relief efforts in areas affected by floods, industrial accidents or other risks. The U.S., the Netherlands and Australia are among those that have similar systems.
A report on the results of the test is expected in early 2014. After that, ministers will decide whether or not to adopt such a system.
[Source:BBC]
Aussie Hotel Offers Free Stay for Instagram Stars
Instagram users with at least 10,000 followers get a free night's stay at Sydney's 1888 Hotel.
The name of the hotel is in honor of the year Kodak launched the first "box and roll" camera, so the place has a photography bent. To that end, each month the hotel has a competition to determine who snapped the best photo of the establishment; the winner gets a free night's stay.
This isn't the first hotel to go all-in on social media: Spain has a Twitter-themed hotel.
[Source: Mashable]