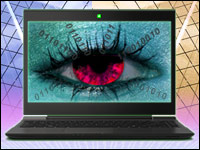 Internet and mobile phone service has been cut off throughout war-ravaged Syria.
According to the BBC, the Syrian government blamed terrorists for the outage. Activists, on the other hand, have warned that Internet and phone blackouts commonly precede military operations in isolated areas.
The BBC cites networking firm Renesys, which reported that each of Syria's 84 IP address blocks was unreachable. Google seemed to corroborate that report with a chart on its Transparency Report showing a drastic plunge in Internet traffic in Syria on Nov. 29.
Syria had large service outages in July and August, but that they lasted less than an hour and only targeted specific areas.
India Tells Cops to Cool It on Social Media Arrests
India announced Thursday that it will no longer allow low-ranking police officials to arrest people who spout off on social media sites — at least not until the case had been reviewed by a senior police official.
According to The New York Times, the announcement comes one week after a 21-year-old medical student, Shaheen Dhada, posted a comment criticizing how Mumbai had nearly shut down following the death of a right-wing politician. Dhada and one of her friends who Liked the comment were then arrested, leading to national outrage.
The charges were subsequently dropped and the arresting officers were suspended. The arrests were an abuse of power, said India's communications minister, Kapil Sibal.
According to The Times, India's Supreme Court will deliberate Friday over the constitutionality of the law that led to the arrests.
Great Firewall Sends Traffic to Fla. Pet Spa
Chinese Web censors — with their relentless and far-reaching Great Firewall — have caused an explosion in Web traffic for a pet spa in Miami.
According to New Scientist, Chinese authorities have begun not simply blocking sites, but diverting certain Web searches to unintended addresses. Thus, when people browse for "torproject.org," a tool to prevent online tracking, they end up at thepetclubfl.net, a pet spa in Hollywood, Florida.
iPhone 5 Approved, Finally, in China
Chinese regulators have, at long last, cleared Apple to sell the iPhone 5. This is the latest installment of the iPhone series, which is wildly popular in China.
According to Reuters, the decision means a likely December release in China, which is Apple's second-biggest market.
The delay — coupled with the summer release of the Samsung Galaxy S III — has caused Apple's smartphone market share in China to dip from 20 percent to 10 percent.
The iPhone 5 was released in the U.S. and other Western countries in September.