One of the most-used leisure-oriented apps on my Android smartphones has been Google's free My Tracks.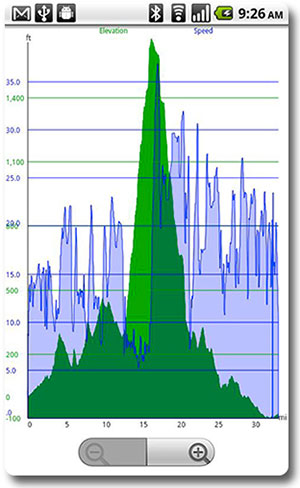 The app brilliantly measures data related to hikes and bike rides via the GPS radio.
It tracks distance, speed, time, elevation, grade and so on. Pressing "Start" when setting off, and remembering to press "Stop" when ending ultimately creates a library of pretty useless statistics that I can't stop collecting.
The geek factor is probably somewhere near the postage stamp-collecting sphere. You can even get My Tracks to periodically announce data audibly while actually on the walk — and really annoy your companion. I have even found an upload function to mash a Google map with the recorded routes and supposedly share them with your friends — if you have any left, that is.
Delving into the app's innards, I discovered a menu item labeled "Sensor State." Could this be a way to further expand the geekiness of my exercise routines? I decided to find out, and I'm sharing the results of my research here so you can follow in my tracks.
Step 1
Purchase a compatible heart rate strap sensor. You'll need one to take the measurements. My Tracks is currently compatible with the Zephyr Technology Consumer HxM Bluetooth heart rate monitor, or HRM. Despite indicating a Polar option alongside the Zephyr, according to Google, the Polar WIND is not supported.
ANT+
My Tracks and Android are also compatible with ANT+, a short-range, low power chipset radio that's used specifically for monitoring-type functionality. An ANT+ device can use coin batteries, and it operates over the 2.4 GHz frequency used by WiFi and older cordless landline phones.
ANT+ is currently available only on Sony Ericsson phones, including Xperias, but not the X10. It's also on HTC's Rhyme. It should show up in the apps drawer on the HTC, and you can find it in the Android Market for the Sony Ericssons.
Cadence
Measurement of cadence, which is the measurement of the number of revolutions of a cycle's crankshaft, requires an ANT+ phone and cadence monitor. So, based on the limited hardware available right now, it's likely that you'll only be collecting human data, rather than this groovy mechanical data. If this is an area you think you might want to get into, watch for ANT+ hardware for your next phone.
Step 2
Install the ANT+ app from the Market if you will be using ANT+. Turn on your phone's GPS and Bluetooth, in any case. You should find the GPS and Bluetooth icons somewhere on one of the screens.
If they're not there, GPS will show under "Location and Security" and Bluetooth will appear under "Wireless & Networks" in the settings area of the phone. Set "Bluetooth Settings" to "Discoverable." The Bluetooth settings also show within the My Tracks settings, but the GPS settings don't.
Step 3
Start My Tracks and choose the "Settings" option. Then choose "Sensor."
In most cases, select the "Zephyr" option. The ANT+ option will be displayed if you have that hardware and have the app loaded.
Step 4
Start recording a track using the "Record Track" button, and the phone should start to pair with the HRM. If it doesn't, check there isn't already an HRM paired. If there is, unpair it.
Step 5
Allow the phone to begin recording a track. It will search for satellites. Select "Sensor State" in the "More" area of My Tracks and you should see the heart rate field filled with data. This tells you the HRM device is communicating. Then follow the HRM device manufacturer's instructions to strap the HRM to your body.
Want to Ask a Tech Question?
Is there a piece of tech you'd like to know how to operate properly? Is there a gadget that's got you confounded?
Please use the Talkback feature below, and I'll try to answer as many questions as possible in this column.