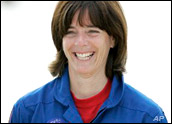 Mission Specialist Barbara Morgan, the teacher-turned-astronaut who is embarking her first space flight Wednesday, is capturing much of the world's attention as the space shuttle Endeavour is readied for launch.
Morgan served as the backup to Christa McAuliffe under the NASA Teacher in Space program between September 1985 and January 1986, training with the Challenger crew at NASA's Johnson Space Center.
Following the Challenger disaster, she resumed her career teaching second, third and fourth grades until 1998, when she left to complete the necessary training and evaluation to become a full-time astronaut.
Remembering Christa
"We had kids all over the country watching adults to see what they do in a bad situation, and it was very important that they see that adults figure out what went wrong, fix it and make things better for the future," Morgan explained. "There was nothing more important to me than making sure that we do the right thing and that we keep their future open-ended.
"I know people will be looking at this and remembering Challenger, and that's a good thing," Morgan said. "They will also be thinking about all the teachers and other people who have been working really hard to carry on the work that Christa was doing. I'm happy about that."
First Lady Laura Bush called Tuesday morning to congratulate Morgan "from one schoolteacher to another," expressing appreciation for Morgan's "commitment to America's space program, to teaching and to students."
New Truss Segment
The Endeavour is set to launch at 6:36 p.m. EDT from NASA's Kennedy Space Center in Florida, carrying a crew of seven on the STS-118 mission to the international space station (ISS). The mission represents the 22nd trip to the ISS, and will be the first flight for the Endeavour since 2002.
Extensive modifications have been made to the vehicle since it was last flown, including safety upgrades and a new power transfer system that will allow the docked shuttle to draw power from the ISS, thereby extending the length it can stay.
The primary focus of the mission will be continuing construction of the ISS by delivering the third starboard truss segment. Three spacewalks are planned to install the truss segment and repair one of the station's control moment gyroscopes — a spinning wheel the size of a mini-refrigerator that is used to control the station's orientation. Three days and one spacewalk may be added to the 11-day mission if the new power transfer system works as planned.
The shuttle will also deliver 5,000 pounds of supplies including food, clothing and parts to the ISS, and will bring 5,000 pounds of garbage back down to Earth when it departs.
The next shuttle mission, STS-120, is scheduled for launch in October.
'Proud to be an Educator'
"It's really exciting for kids and everyone to see that someone from a common profession can have an opportunity like this," Jackie Blumer, fourth-grade teacher at NASA Explorer School Greenville Elementary, told TechNewsWorld. Blumer has made two weightless flights — one through Zero Gravity and one through NASA's Explorer Schools program — and planned to observe Endeavour's launch in person.
"Morgan has worked hard and waited a long time to actually get to launch," Blumer added. "To know that she's going really makes me feel proud to be an educator. It's just really, really exciting."
A+ for Perseverance
Morgan's perseverance and determination to fly are a testament to her dedication, Paul Czysz, professor emeritus of aerospace engineering at St. Louis University, told TechNewsWorld.
"She did it the hard way, and that takes a lot of hard work and dedication," he said. "I give her an A+ for sticking with it."
The Endeavour's mission is an important one, Czysz added, and will involve a lot of hard work installing the truss segment and relocating solar arrays aboard the ISS.
"I'm glad Barbara's on this flight," he commented. "This is an accomplishment for her, and to me, it's really the shining star of what NASA's doing today."