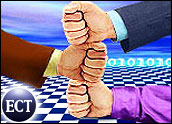 Cisco Systems, EMC and Microsoft have formed an alliance to facilitate the protection and sharing of sensitive government information.
The Secure Information Sharing Architecture (SISA) Alliance, which also includes Liquid Machines, Swan Island Networks and Titus Labs, aims to develop IT architectures that permit only authorized personnel access to specific information while easing the management of shared, protected information across trusted communities.
Such capabilities have challenged many government agencies as they have increased their focus on protection and sharing information following the attacks of Sept. 11, 2001.
Breaking Down Barriers
"While government is attempting to break down the barriers between organizations to enable information-sharing, it is also struggling with numerous high-profile data loss incidents," said Steve Cooper, former chief information officer for the U.S. Department of Homeland Security.
"Breaking down barriers between government and partner organizations will require better confidence in the ability to keep information in the hands of only the appropriate users," he added.
One hypothetical application of the architecture, for example, would allow public health officials to monitor confidential data on pandemics found in different government agencies and private sector databases, giving them the ability to coordinate response efforts with both government and private sector partners.
Existing Technology
The alliance's offerings focus on combining existing applications, information infrastructure and networking technologies to help protect customers' IT investments.
Whereas in the past Cisco, EMC and Microsoft had each been viewing the needs of government customers through the lens of their own products, the growing need for simultaneous protection and sharing prompted them "to come together and look at this in a holistic way," Eric Rosenkranz, industry manager for Microsoft's public sector organization, told TechNewsWorld.
Each partner is contributing capabilities according to its own strengths. Cisco provides network protection, security-enhanced virtualized network links, and data protection; EMC's networked storage systems, information management and security software provide a flexible information infrastructure; and Microsoft provides identity management, client and network operating systems, and a collaboration framework that helps keep content in the hands of authorized users.
Certification Process
Meanwhile, Liquid Machines is contributing content-protection capabilities that extend the Microsoft digital rights management technology; Swan Island Networks designs and operates sensitive information-sharing systems; and Titus Labs offers information labeling and classification.
"The architecture itself is a set of optimized configuration settings to get our products to work together to accomplish the simultaneous goals of protection and sharing," Rosenkranz added. "We believe that we can help take products that have already been deployed and use them together in new ways."
Delivery will be via systems integrators trained through a three-tier certification program, so that SISA customers can select from a range of delivery providers. Addx, which oversees the formalized business alliance, will also manage the certification system.
Several integrators are already part way through the certification process, Rosenkranz said.
'Islands' of Information
"This is significant for a number of reasons," Judith Carr, vice president for public sector governance and sourcing at IDC, told TechNewsWorld.
First, government agencies including the U.S. Departments of Defense and Homeland Security need to share information in order for them to protect this country, but they each have different architectures and systems, Carr noted.
Such "islands" of protected information make sharing difficult, if not impossible, particularly when some agencies even have multiple systems internally, she added.
By providing a consistent architecture across groups, the SISA Alliance will save time and money and make it easier to share information, she explained.
Also significant is the way the alliance was formed, Carr added.
"Industry giants who don't normally partner have come together to create this," she said. "That's remarkable in itself."