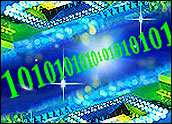 A group of semiconductor firms have opted to extend their partnership to develop high-performance, energy-efficient chips down to the 32 nanometer scale.
Led by IBM, the alliance works under the concept of the Common Platform model that lets the group jointly develop semiconductor technology as well as manufacture it for a variety of purposes.
IBM and Chartered started the Common Platform joint development and production model in late 2002 with Samsung joining in 2004, followed by Infineon and Freescale Semiconductor.
The joint development agreements between these companies will now include 32-nanometer (nm) bulk complementary metal oxide semiconductor (CMOS) process technologies and joint development of process design kits (PDKs) to support that technology, IBM says. The companies have previously worked on joint efforts at 90nm, 65nm and 45nm. The extension of the Common Platform agreement means the partners plan to pool their combined expertise and resources through 2010.
Collaborating for Architecture
"What I think is pretty interesting about what the Common Platform folks are doing is, they are collaborating to create a common microprocessor architecture," Charles King, principal analyst for Pund-IT, told TechNewsWorld.
"They are leveraging everything from chip design to manufacturing facilities and then basically providing services. They are using the services themselves, but they are also offering it to third-party customers, ranging from fabless chip developers who want to do a one-off design and run 100,000 units and don't want to invest in a chip fab, to companies that are looking for a custom chip design for a specific product," he explained.
The Common Platform collaboration also lets the companies use the jointly developed technology and design kits to synchronize their manufacturing facilities, which lets them produce nearly identical chips for high-volume OEM (original equipment manufacturer) customers.
From Cell Phones to Supercomputers
The technologies that come out of the Common Platform are used in a wide variety of products ranging from handheld devices to supercomputers. IBM and Chartered, for example, were responsible for developing and delivering the processors used in Microsoft's popular Xbox 360 game console. Last year, IBM, Chartered and Samsung produced 90nm chips for Qualcomm for use in cell phones.
"What Common does is take the collaborative microprocessor development model and extends that out to a much broader group of potential customers," King noted. "It's a good model and it appears to be working … I expect them to keep rolling along."
Down to 32nm
"Major new challenges are expected at the 32nm node, both in materials as well as device structures," said Dr. Oh-Hyun Kwon, president of Samsung's System LSI Division in its semiconductor business unit. "We expect to deliver breakthrough technology by working together with our partners, who bring a variety of expertise as leaders in the industry."
As with previous Common Platform agreements, which the companies refer to as "nodes," the alliance members will focus their 32nm development efforts at IBM's 300 millimeter (mm) semiconductor fabrication facility in East Fishkill, N.Y.
"The industry has recognized the value and importance of the collaborative model in driving robust, cost-effective solutions," said Chia Song Hwee, president and CEO of Chartered. "As we now collaborate on our fourth node under this joint model, we have seen how each company brings unique strengths and expertise to drive a customer-centric offering. The results of our collaboration have served as a platform for providing customers with world-class, flexible sourcing solutions."