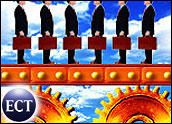 Intel and Google led a number of other technology and environmental organizations Tuesday in announcing the Climate Savers Computing Initiative, which is dedicated to slashing the power consumption of technology.
The goal of the initiative, which currently includes Dell, EDS, the Environmental Protection Agency (EPA), HP, IBM, Lenovo, Microsoft, Pacific Gas & Electric, the World Wildlife Fund (WWF) and more than 25 other organizations, is to cut the power consumption of computers by 50 percent by 2010.
"Today, the average desktop PC wastes nearly half of its power, and the average server wastes one-third of its power," said Google Fellow Urs Hlzle, the company's senior vice president of operations.
Slashing Emissions
The initiative is setting a new efficiency target of 90 percent for computer technology. If achieved, that increased efficiency will reduce greenhouse gas emissions by as much as 54 million tons per year — the equivalent of taking 11 million cars off the roads or shutting down 20 500-megawatt coal-fired power plants. It will also save US$5.5 billion in energy costs each year, the program said.
After working separately on efforts to improve their own efficiency levels, Intel and Google "hatched the idea" for the initiative about a year ago, Bill Calder, a spokesperson for Intel, told TechNewsWorld. Hlzle and Pat Gelsinger, senior vice president and general manager of Intel's Digital Enterprise Group, were the chief architects of the plan, and reached out to other organizations over the past several months, he explained.
Membership in the initiative will be formalized in the next few weeks, but so far members include computer manufacturers and chipmakers, as well as environmental groups, energy companies, retailers, government agencies and more.
"Computers have helped us make huge strides toward a more efficient world today, with reduced travel, more productivity, online transactions and more," said Gelsinger.
Skyrocketing Costs
"But with today's latest energy-efficient technologies, we can do even more," Gelsinger added. "The commitment of the member companies that are here with us today is a firm statement to the collective resolve to make an enormous impact."
While energy costs account for an average of about 10 percent of the typical IT budget today, that number could rise to 50 percent in just a few years, the initiative said. As a result, the Forbes Global 2000 is expected to spend more on energy than on computer hardware by 2010.
The initiative is inviting all companies and organizations to join the effort. The program also provides information on how individuals can make a difference, such as by choosing products certified by Energy Star.
Energy Star Program
Indeed, the Energy Star program is one of several efforts already in place to help reduce greenhouse gases and save energy, while the Climate Leaders program is another one, Kristen Hellmer, a spokesperson for the executive office of the President's Council on Environmental Quality, told TechNewsWorld.
"The administration strongly encourages private sector leadership in increasing energy efficiency," she said. "We are pleased to see Google joining many other companies in taking the lead."
Computer and component manufacturers that join the program commit to building energy-efficient products that meet or surpass Energy Star guidelines. Businesses must also commit to requiring high-efficiency systems for the majority of their corporate desktop PCs and volume server purchases, and to use power-management tools on desktop PCs.
A Sector in Need
"The technology sector is one in which we badly need to reduce energy consumption," Bill Magavern, senior representative for Sierra Club California, told TechNewsWorld. "Reducing consumption 50 percent by 2010 would be impressive."
Since a lot of technology companies have facilities in California, the new effort could also help the state meet its goal of returning to 1990 emission levels by 2020 — a requirement of the new Global Warming Solutions Act, Magavern noted.
Improving the efficiency of computers will also have the added benefit of reducing the heat they create as waste, and that in turn could propel the development of faster and better technologies, Kevin Trenberth, head of climate analysis at the National Center for Atmospheric Research, told TechNewsWorld.
"Anything that can be done to cut down on energy consumption will increase efficiency," he said. "Ultimately, it will allow supercomputing centers to become bigger, better and faster."
A Sector-Wide Solution
The initiative licensed its name from the WWF's Climate Savers program, through which leading companies are working to reduce their carbon footprints.
"This is the first time our Climate Savers program has been applied to an entire sector, engaging manufacturers, retailers and consumers," said John Donoghue, senior vice president for the WWF. "We are pleased to join these industry leaders to provide solutions to address climate change."