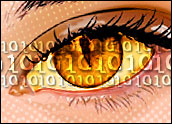 Tesco, a UK-based supermarket giant, is installing hundreds of screens that will scan shoppers' faces while they wait in line at its gas stations. The information gathered from the shoppers will then be dished to advertisers.
Tesco struck a deal with Amscreen, which makes OptimEyes, a system that works by using a camera and TV-style screen. The camera leers at customers and estimates their ages, sex and how long they looked at a displayed ad.
One could be forgiven for anticipating a backlash. Over the summer, Brits wereirked with the installation of smartphone-tracking technology affixed to recycling bins. Perhaps predictably, people seemed to resent the idea that they were being watched, and that the watcher planned to turn their personal details into advertising data.
OptimEyes reps are eager to point out that the technology does not store images or recognize individuals.
[Source:The Telegraph]
Quirky North Korean Tablet Comes With Gone With the Wind
North Korea's new Samjiyon tablet doesn't connect to the Internet, but it does come equipped with 14 games and 488 dictionaries, reference works and e-books — including Gone With the Wind.
The Samjiyon version of the 1936 classic has an introduction explaining that the book is especially helpful "for understanding how modern capitalism spread to all of the United States." The intro adds that the story's exploitation of black slaves was the economic foundation of the U.S.
North Korea has an unlikely history with Gone With the Wind, which was translated by the government about 20 years ago. It quickly became popular, and while the movie remains forbidden, it is sometimes used in English training materials for government officials. What's more, North Korean officials have quoted the novel during negotiations with U.S. envoys.
[Sources:The Washington Post;Associated Press]
Rock-Paper-Scissors Robot Always Wins
Apparently with nothing better to do, Japanese scientists have created a robot that wins rock-paper-scissors at a 100 percent clip.
The robot — called "Janken," after the Japanese name for the game — is an upgrade on a similar game-playing bot unveiled in the summer of 2012. The upgrade is designed to complete its hand shape as its human opponent is forming theirs. Thus, it's not a matter of sci-fi telepathy, but simply instantaneous recognition and reaction.
The new robot reacts in one millisecond, while the first installment took a molasses-paced 20 milliseconds.
[Source:BBC]
BlackBerry Sale Nixed, CEO Fired
Call it BlackBerry Monday.
Canadian smartphone maker BlackBerry's shares took a double-digit tumble Monday after the company (a) announced it wouldn't be sold after all, and (b) canned the CEO.
The sale of all or part of BlackBerry had drawn interest from multiple parties, including the company's own cofounders, Google, Cisco, Chinese technology outfit Lenovo and Canada-based Fairfax Financial, among others. BlackBerry declined to say why, exactly, it didn't accept any offers, so one is left to wonder if the offers were too low; the companies were scared off by BlackBerry's books; or a combination of the two.
At any rate, the none-sale left BlackBerry hanging and its stock plunging.
Fairfax Financial said it would invest $1 billion in BlackBerry, but an out-and-out purchase never materialized.
BlackBerry announced in September that it was cutting dozens of jobs in the U.S., and followed that up a week later by announcing thousands of layoffs across all departments.
[Source: CNN]