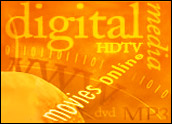 This story was originally published on Oct. 2, 2008, and is brought to you today as part of our Best of ECT News series.
D-day — the day television broadcast signals switch from analog to digital — is less than five months away. While the Federal Communications Commission (FCC) and broadcasters like ABC, CBS, NBC and FOX have spent recent months informing the viewing public about the switch, there's still a lot of confusion about what it all means among viewers with various ways of receiving programming. U.S. viewers watch on everything from ancient, bunny-eared boxes to 60-inch high-def TVs hooked up to 800-channel satellite subscriptions. Who needs to upgrade by next February? How?
Of the 1,745 television stations required to switch to digital signals, some 1,609 already offer digital programming. Cable subscribers and most satellite TV subscribers won't have to do anything. Neither will people who already use newer digital tuners (as of March of 2007, new TVs have been required to include digital tuners). However, anyone using an older TV with an analog tuner will need to purchase a digital TV converter set-top box. Satellite subscribers who view local TV stations over the air rather than through their satellite providers will also have to go digital if they haven't done so already.
Digital set-top boxes boxes are available from a variety of retailers, from local grocery and drug stores to consumer electronics chains like Best Buy. On average, the boxes cost about US$49.99 each but can cost as much as $70.
"There are 150 approved boxes for [over-the-air]," Patti Reali, an analyst at Gartner Research, told TechNewsWorld.
To help offset that expense, the government launched an $890 million coupon program last January. The initial 22.25 million coupons are available to all households; however, there is a two-per-household limit.
The biggest challenge for the FCC and broadcasters will be getting the word out to people who will need to buy digital converters, Joshua Martin, a Yankee Group analyst, told TechNewsWorld.
"The government has done a pretty ineffective job, despite their best efforts, to make people aware of what they need. So there's a bit of confusion around — if you have pay TV do you still have to make the transition? And if you have a newer TV, do you still need a converter box? The real challenge is in making it clear about what people need and what people don't need," he explained.
Anyone with a pay-TV service or a newer TV and an antenna will be fine, Martin said, "but anyone with an older TV will be impacted."
Prepping for Change
The digital transition represents the most significant advancement of television technology since the introduction of color TV more than 50 years ago. Television broadcasters and stations have been preparing for the switchover since the late 1990s, building digital facilities and testing out digital channels. In fact, many stations have been airing digital channels as well as their analog channels for some time.
"Stations are spending billions of dollars currently to send out both digital and analog TV signals in preparation for the transition. Once the transition happens, both money and electricity will be saved. This phase of the transition is consumer education. There's also a great need to focus on Spanish-speaking and other special needs viewers, who are among those at the greatest risk of not getting the message," said Margaret Tobey, vice president of Regulatory Affairs at NBC Universal.
The cessation of the transmission of analog signals on Feb. 17, 2009, will directly impact an estimated 20 million households in the U.S.
Why the Switch?
Traditional analog signals have been the standard transmission technology for broadcast television since the first TV show hit the airwaves. However, analog technology is inefficient. It uses a wide swath of the 700 MHz bandwidth but allows stations to transmit just a single channel at a time. As anyone still using a rabbit ear antenna can testify, the technology is subject to interference, resulting in a "snowy" picture.
"Analog broadcast signals waste spectrum — they take way too much bandwidth given how little information they actually contain. That was fine in 1950. There were no other uses for that spectrum, but it's a waste now, so the FCC has decided to reclaim that spectrum by forcing broadcasters to use digital broadcasting," explained James McQuivey, a Forrester Research analyst.
Digital television signals, on the other hand, are much more efficient. They are more flexible than analog signals and take up less bandwidth.
"[It] occupies as little as an eighth of the space per channel, and getting smaller thanks to advances in compression," McQuivey told TechNewsWorld.
It has also allowed the government to auction off the soon-to-be-vacant airwaves so they can be used for other purposes. In order to do that, they have to transition everyone to a new platform, said Martin.
The decision to move the U.S. from analog to digital television signals was made by Congress more than 10 years ago. The Feb. 17 deadline was mandated in the Deficit Reduction Act of 2005.
"Passage of congressional law mandates [the transition]. The move to digital will free up valuable and scarce spectrum for other uses, especially for emergency communications and first responders, as well as broadband wireless communications or other applications/services," said Reali.
The FCC began auctioning off the rights to operate the 700MHz spectrum in January of 2008, netting the government nearly $20 billion from a variety of buyers, including Verizon Wireless and AT&T.
"Mostly cellular and wireless carriers purchased the spectrum. I'm assuming they intend to make very efficient use of it — broadband, an increased ability to download on cell phones, third-generation and even fourth-generation wireless," said Matthew Nodine, an FCC spokesperson.
Clearer Picture
For viewers, the benefits of the switch are mainly in quality. Even with a standard definition television, consumers will receive television broadcasts that offer better images and sound.
"TV viewers can expect a much better picture. Probably from a viewer's perspective, it's one of the plus sides to this as far as benefits go," Nodine noted.
At this time, however, that's the only benefit for consumers.
The transition will bring broadcasters the ability to offer several channels of digital programming at the same time using roughly the same amount of spectrum formerly required for a single analog program, technique called "multicasting." HD Radio is a similar technology that enables the transmission of multiple channels on the same frequency. Many HD-broadcasting radio stations have already begun offering additional channels, but few TV broadcasters have expressed a great deal of interest in taking advantage of that aspect of the technology.
"Broadcasters have been given the right to keep more than the eighth of the space that they owned historically. So technically, with advanced video compression, they could fit multiple channels into their same broadcasting space," McQuivey pointed out.
"However, there's very little reason to spend money on making or acquiring yet more content when the audiences for existing programming are already diluting. So only the public television channels in major markets have shown any interest in broadcasting more channels with this space. Expect other broadcasters to lease access to this bandwidth to people who want to use it locally for other information delivery services," he added.
The only downside to the technology, according to McQuivey, is that "people who want to keep using their 20-year-old 20-inch Zenith TV will need to add an analog converter, which the government will offer to pay for."