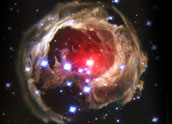 When billionaire Charles Simonyi blasted off into space for a visit to the International Space Station last month, he not only made history as the fifth private citizen to fly into orbit. He also fulfilled what for many is a lifelong dream: To explore the final frontier.
The prospect of traveling into space is one that has captivated people for ages, perhaps even since the earliest humans first looked up at the stars.
However, space travel has largely been restricted to trained astronauts working in large, government-sponsored programs such as those conducted by NASA, having first gone through years of preparation and screening. Only recently have we seen exceptions like Simonyi and Anousheh Ansari, who flew last fall, and only then when they could afford the adventure's multimillion-dollar price tag — a bit out of reach for most of us.
Today, all that's changing. We are now on the cusp of a new era in which space travel becomes a viable commercial enterprise with technologies to make it safe and possible, competition to bring prices down, and luxury space hotels in orbit to enable extended stays.
From Fantasy to Reality
"The thing that's happening in the industry nowadays is that what seemed like fantasy when we were all growing up is now becoming real with the commercial launch industry," Marc Timm, program executive for NASA's Commercial Orbital Transportation Services (COTS) program, told TechNewsWorld. "Now there are ways you can actually see that in the future, you'll be able to do it. It's becoming a lot more concrete."
Market research indicates there's a healthy demand.
In as far back as the early 1990s, surveys have found that as many as 70 percent of us want to go to space — almost half of the respondents in one survey said they would pay three months' salary to do so, according to Space Future.
Forecasts from aerospace consultancy Futron, meanwhile, predicted in 2002 that the commercial space travel industry could generate revenues of more than US$1 billion per year by 2021.
The demand is there; the opportunity is coming. Soon it will be possible for anyone to venture into space — just don't forget your Dramamine.
The 'Vomit Comet'
Those who have followed the news lately may remember reading about famed physicist Steven Hawking's flight last month aboard Zero Gravity's G-Force One.
Flying from the Shuttle Landing Facility at the Kennedy Space Center in Florida, Zero Gravity uses a modified 35-passenger Boeing 727-200 — sometimes affectionately referred to as the "vomit comet" — to provide 90-minute flights similar to those conducted by NASA to train its astronauts. Flights reach altitudes of between 24,000 and 32,000 feet, and passengers experience weightlessness for about 25 seconds.
The ticket price is $3,750, and more than 2,500 people have flown so far.
However, because it peaks at only 32,000 feet, Zero Gravity's offering doesn't actually reach space. Space, according to the internationally agreed-upon definition, doesn't start until you reach 62 miles off the ground, or about 327,360 feet up. That's when things can get suborbital.
Up, Then Down
Suborbital space travel is a trip in which the vehicle goes up into space and then comes right back down not long afterwards because its speed and velocity are not enough to overpower Earth's gravitational pull.
Orbital travel, by contrast, is a trip in which the vehicle goes so high, and at such a fast speed, that it can resist the pull back to Earth and enter a stable orbit around the planet instead.
NASA's Space Shuttle makes orbital flights, and the International Space Station is orbital. Most other ventures into space are suborbital.
Suborbital space travel is a promising market, according to Futron. By 2021, more than 15,000 passengers could be flying on suborbital trips each year, representing revenues in excess of $700 million.
"Suborbital flights provide a lot of excitement and adventure," George Nield, deputy associate administrator for the Federal Aviation Administration's office of commercial space transportation, told TechNewsWorld. "People are able to see the blackness of space and the curvature of Earth, and they can experience weightlessness. We expect within the next few years to see regular and frequent flights, with hundreds of launches and thousands of people getting to experience it."
Astronauts Wanted
Probably the best-known company gearing up to offer suborbital space travel right now is Virgin Galactic. Founded by Virgin Group leader Richard Branson and Burt Rutan, designer of the Ansari X Prize winner SpaceShipOne, Virgin Galactic plans to begin offering suborbital flights to the public beginning in late 2009.
The company has already booked about 200 tickets, priced at $200,000 each, for its roughly two-hour flights up to an altitude of about 70 miles and back down again, Carolyn Wincer, head of astronaut sales for Virgin Galactic, told TechNewsWorld.
Suborbital trips are just the beginning, Wincer said.
Eyes on the Sky
"If we can prove that commercial suborbital travel can be profitable, what will happen is that private sector money will start to come in," Wincer said. "When that happens, technology advances and prices come down," she said, leading the way into orbital ventures and beyond.
PlanetSpace is another firm readying suborbital offerings. Founded in 2005, the company will soon begin accepting reservations for its suborbital flights, which will be priced at $250,000 each, including two weeks of training.
PlanetSpace expects to fly 2,000 new astronauts in the first five years and generate revenue of $200 million in the fifth year. It, too, has its eye on orbital offerings down the road, and will perform the first test flight of its Silver Dart orbital vehicle in early 2009, Geoff Sheerin, the company's president and CEO, told TechNewsWorld.
Power of Convictions
"If the airline business had been left to the government to develop, it would probably cost $10,000 a pound to fly on an airplane," Sheerin said. "The step we really needed to take, and now NASA has sanctioned it, is to have private sector suppliers of space travel."
Indeed, "the pioneers in North America understood the risks of their venture, but they believed they could control them," Paul Czysz, professor emeritus of aerospace engineering at St. Louis University, told TechNewsWorld.
Similarly, today the potential of space travel rests not so much on developing brand new technologies as it does on understanding what's needed to make it feasible commercially, he said. "Technology from 1942 still works," Czysz said. "It's understanding the skills required and the belief in your convictions that you can do it."
The Final Frontier, Part 2: From Planetary Cargo to Space Hotels