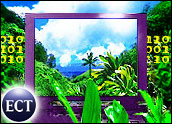 Especially as Earth Day 2007 approaches, working to mitigate the effects of global warming and greenhouse gases, as well as protecting the environment, are topics on everyone's lips these days. As scientists, politicians, lobbyists and environmental activists offer arguments and counter arguments on the veracity of each other's claims, there is no dispute that the cost of energy continues a troublesome climb as does the size of the world's landfills.
While lawmakers around the world wrangle over car and factory emissions, international treaties, fossil fuels and the promotion of alternative energy, there are simple steps individuals and businesses can take to conserve energy and responsibly recycle their computers and other electronic devices.
Thinking Green
As consumers become more knowledgeable about the products they use and their impact on the environment, and as both local and federal governments create new regulations, companies are increasingly implementing their own green policies, Euan Davis, a senior analyst at Forrester Research, told TechNewsWorld.
In a recent Forrester report, Davis found that sourcing policies that work to reduce energy costs and incorporate environmental frameworks into sourcing processes will be commonplace by 2010. For enterprises, a green sourcing strategy will help companies meet customer requirements for environmentally friendly products, reduce the impact of energy costs and risks on the bottom line, and minimize energy consumption and environmental impact.
A growing number of government regulations has mandated green purchasing practices, and others force manufacturers, retailers and importers to take responsibility for the disposal of electronic devices in the European Union. Legislation in the U.S., however, lags behind.
Corporate Responsibility
In the relative absence of initiatives in the U.S., some of the technology industry's biggest players, Davis found, have taken the lead in the development of green IT and green technology. HP has committed to reduce its energy footprint in 2007 by switching a small amount of its energy purchases to renewable energy. The company has also begun offering products and services to assist customers in reducing their power consumption and carbon emissions.
The hardware maker has started pushing energy savings in the datacenter via management suites that feature thermal sensing grids at the rack level and zoning capability at room level, intended to maximize cooling capacity, cut costs and increase data center capacity.
HP has also included the advanced configuration and power interface (ACPI) specification, formerly only available in laptops, within its PCs, notebooks and servers. The devices are shipped with the ACPI power-save mode enabled, something many firms do not activate on their new equipment. This provides customers with a quick and practical way to reduce power consumption.
Getting On Board
Sourcing its executives, Davis said, can play a key role in moving an entire enterprise toward a green strategy. First, they need to establish a sense of urgency. While availability of technology plays a role in what sourcing managers can do, these executives should consider which products and services work best.
"Assess your ICT purchase base in terms of energy consumption. Eco-labeling provides a quick button to press rather than a full-scale re-architecting of the supply chain around energy consumption," Davis noted.
"Many equipment manufacturers are shipping equipment with power saving mode switched on," he added.
Purchasing executives should also link energy efficiency to cost, conduct an energy audit and include green metrics in preferred supplier decisions. Davis expects energy audits to become commonplace and can help decision makers understand how racks, servers, PCs and printers all consume energy and link their procurement to energy consumption as well as price.
Companies interested in taking their companies' IT departments green can turn to EPEAT (Electronic Product Environmental Asssessment Tool), a system that assists purchasers in both the public and private sectors to evaluate, compare and select desktop computers, notebooks and monitors using their environmental attributes. The system also offers a set of performance criteria for the design of products.
Practical Steps
Adopting environmentally friendlier behaviors can also be done at the individual level. Desktop computers use some 15 percent more energy than laptops, so switching to a laptop is one potential first step. Activating automatic hibernation or shut-off modes on computers is also an option for both businesses and individuals. Users can also shorten the length of time their computer will run before it hibernates or shuts downs.
Individuals and companies, Davis said, can include a note at the bottom of their e-mails requesting that the recipient save paper by not printing the e-mail. "There are simple messages and ways that firms can begin reducing the impact of their operations generally."
"A lot of firms have begun communicating to their employees why they should turn off their screens and turn off printers and the normal housekeeping stuff, you know, turn off the lights," Davis stated. "Firms that keep pushing those messages and rather than just push them, explain why they are doing them, they are [the firms] that are really making difference.
"And, there is a tremendous appetite from users to do them," he added.
Know Your Life Cycle
Businesses and consumers should become more familiar with the life cycle impact of the products they use, maintained Eric Williams, a professor at Arizona State University's Department of Civil and Environmental Engineering and the School of Sustainability.
"You have three phases — production, use and disposal," he said. "And you have environmental impacts associated with all three."
During manufacturing, there is an environmental impact from the chemicals as well as energy used to produce the devices. The amount of electricity consumed is the principal concern during the usage phase. In disposal there, is the question of what happens when these items make it to landfills, or whether they are recycled properly.
"At least for home computers, the manufacturing phase has a large environmental impact compared to a lot of other things like automobiles, refrigerators, etc.," Williams explained. "Most of those items, their environmental impact is during operation. For a car, most of the environmental impact is in driving it and a relatively small share, 5 or 10 percent, is from making the car.
"What's interesting about computers is, because it is very energy- and materials-intensive to make IT equipment, actually the production phase has the most impact. For computers it is important to think about how to minimize the energy and materials used during production. One way to do that is to extend the lifespan."
For businesses and home users, this means not buying a new computer unless one actually needs it and reselling old computer so that someone else can get some value out of it without requiring a brand-new one to be manufactured, Williams said.
E-Waste Woes
Technological advances have increased the number of gadgets enterprises and individuals use throughout their day, but the life cycle for these products is still comparatively short. Their brief life cycles lead to more electronics being discarded and winding up in landfills.
E-waste such as discarded computers, monitors, PDAs, mobile phones and gaming consoles are a growing global crisis, according to Green Citizen, an electronics recycling organization. Each year, an estimated 400 million units of obsolete electronics are thrown out. In three years, by 2010, the group expects that figure to rise to three billion units.
Computers and other electronic equipment contain more than 1,000 materials, many of which are harmful toxins, such as lead, mercury, cadmium and flame retardants, bioaccumulative toxins (PBTs), chlorinated and brominated substances, toxic gases, acids, plastics and plastic additives. When released into the environment they could potentially contaminate the water, land and air. In humans, they can cause birth defects and also damage coronary, respiratory, nervous and skeletal systems, according to Green Citizen.
One television or computer contains an average of four to eight pounds of lead, and monitor glass contains roughly 20 percent lead by weight, Green Citizen has found. As the glass is crushed and breaks down in the landfill, that lead leaches into the soil. A scant 1/70th of a teaspoon of mercury would be enough to contaminate a 20-acre lake, poisoning the fish and making them inedible. Municipal incineration of e-waste in the U.S. is the single largest source of cancer-producing dioxin and one of the largest sources of heavy metal contaminations in the atmosphere, the organization stated.
On average, 220 tons of e-waste is dumped in landfills and incinerators each year in the U.S. alone, according to the organization. Toxins from these items account for 2 percent to 5 percent of the municipal solid waste stream in the U.S., and the amount is growing rapidly. As much as 50 percent to 80 percent of electronic waste collected for recycling is transported overseas.
Global Concerns
Some 500 shipping containers full of e-waste is shipped each day to Nigeria alone, James Kao, chief executive officer of Green Citizen, told TechNewsWorld. There, low-wage workers dig through the bulk of it and retrieve the bits of gold, copper and other recyclable metals.
"Five hundred containers of computers and electronics are shipped from the U.S. and Europe under the name of reuse," Kao explained. "However, only 25 percent of what is in the container is reusable. The rest is picked through for gold, copper and things like that, and the rest is dumped."
Kao strongly recommends that businesses and individuals do their research and find organizations that responsibly recycle electronics.
"You need to ask, during those free recycling community events, how is it going to pay for itself? There is not a lot of value in computers and monitors that are no longer good," Kao explained. "What's happening today at a lot of these events is that the recycler is interested in ripping out whatever is valuable so they can sell it on eBay or in secondary countries.
"Two or three weeks later, those items end up in China, India, Pakistan or Nigeria, anyplace they can find low-cost labor and no environmental standards," he added.
Companies including Dell and Apple provide computer recycling whenever a consumer purchases a new system. Verizon has also begun a mobile phone recycling program.