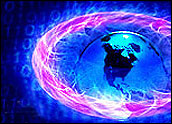 Part 1 of this two-part series enumerates the ways in which the guest-worker visa program fails to meet the needs of American workers and the high-tech industry. Part 2 digs further into the arguments for and against the H-1B visa program, as well as the trends and motivations underlying them.
"Google and other American companies are in a fierce competition with companies around the world for top talent. If U.S. employers are unable to hire the brightest candidates — many of which are already here studying at one of our universities — foreign competitors will. Unfortunately, due to current limits on the number of H-1B visas, Google is regularly unable to pursue highly qualified candidates," Keith Wolfe, Google's global mobility manager, maintained.
However, it's the national economy and U.S. programmers — particularly those upwards of 30 years old — that are the losers no matter what form globalization takes, whether it's importing skilled IT staff through the H-1B and L1 visa programs or outsourcing work or operations offshore, contends Norman Matloff, an accomplished IT engineer and computer science professor at University of California, Davis, who has researched the issue extensively.
H-1Bs: The Google Experience
Google submitted around 300 H-1B applications this April for 2009. Last year, 248 of its visa applications were accepted but 70 — more than 25 percent — were rejected, according to Wolfe. Google cannot and does not anticipate applying for any set number of H-1B visas, or how many people it looks to hire in any given year, he told TechNewsWorld. "Like any business, we add jobs when we grow, and when we grow, we seek to attract, hire, and retain the world's top talent, both U.S.-born and non-U.S.-born. Google is committed to hiring the best and brightest employees, regardless of country of origin."
Wolfe offered a couple of examples of the numerous "incredibly talented" employees it has hired and trained in the U.S. under the H-1B visa program. Originally from Turkey, Orkut Buyukkokten joined Google in 2002 through the H-1B program after earning a Ph.D. at Stanford. Today, tens of millions of users make use of "Orkut," the social networking service he developed. Buyukkokten received his Green Card for permanent residency after spending four years in the States as an H-1B visa holder, Wolfe related.
After earning his Ph.D. at Georgia Tech, Krishna Bharat — originally from India — joined Google in 1999 through the H-1B program. "He was one of the chief creators of Google News and today serves as Google's Principal Scientist. He too has received his Green Card for permanent residency."
Fix the System
"This year, approximately 163,000 applications were submitted — and due to the artificially low cap on H-1B visas, tens of thousands of highly skilled workers hoping to contribute to the American economy are once again likely to be denied the opportunity to work here," Wolfe maintains.
A lack of suitable candidates, along with globalization and the resulting need to maximize cost and operating efficiencies, is driving demand by U.S.-based IT companies for foreign talent, according to the consensus viewpoint of top IT industry management, most of whose brightest lights are lobbying for a much higher H-1B cap, or scrapping the system and replacing it with one along the lines of those now in use in the U.K., Canada and Australia.
"Much of this discussion is focused on implementing a model similar to the one in Canada, the U.K. and Australia, which are quality selective systems that allow companies to obtain visas for professionals with specialized skills without quota limitations," explained David Bartlett, a strategy consultant and principal at Minneapolis-based Global Economics.
"Another angle that seems to have gotten lost in this discussion is how this relates to off-shoring and the reason why many of these companies are off-shoring their IT operations to India and other countries … which is due to labor costs but also shortages of qualified personnel here in the U.S. So if Microsoft is unable to import foreign talent, it forces Microsoft's hand," Bartlett added.
Lose the System
Industry lobbying and public relations, however, have not completely drowned out opposition to increasing the H-1B visa cap and similar legislation. Industry claims that it needs to import workers because there's a shortage of qualified people here in the U.S. "flies in the face of the economic data," according to UC Davis's Matloff. Moreover, rather than enhancing national competitiveness, the H-1B program is degrading it.
"The U.S. industry is using the H-1B program to avoid hiring older workers, many of whom are first-rate talents," Matloff told TechNewsWorld.
Matloff also offered an example from his own experience. "A former student of mine has a Master's degree, and has several patents under his belt. His innovative work was written up in the Wall Street Journal, and he is articulate and well-liked. Yet he found it difficult to get engineering work once he hit his late 30s, all while his former employers were hiring H-1Bs. He was forced to leave the field. This meant the loss of a proven innovator, showing that the industry is shooting themselves in the foot over their obsession with labor costs."
Pressures of Globalization
Returns demanded by investors — the venture capital community, specifically — and successful industry political lobbying will continue to drive growth in off-shoring and H-1B and L1 IT staff importing as IT companies pursue a "micro-multinational" business model and jobs in the U.S. will be concentrated areas such as sales and marketing rather than R&D, Matloff contends.
This in turn results in the dumbing-down of the U.S. workforce as there is less demand for highly educated and skilled workers, Matloff wrote in the November 2004 issue of Communications of the ACM. "Once again, this amounts to trading jobs that require more education for jobs that need less education," he wrote.
H-1B legislation is so fuzzy and open to interpretation that it is relatively easy for IT companies to abuse it, according to Matloff and other critics. Breaking the letter of H-1B legislation, a number of studies have found that the H-1Bs are paid on average 15 percent to 33 percent less than comparable U.S. IT workers, Matloff wrote in "Globalization and the American IT Worker."
Cherchez el Dinero
As successful and influential as America's leading IT companies are, none of them have been absolutely pivotal to overall industry development, Matloff contends, yet elected government representatives are caving in to their lobbying efforts.
"There are lots of good Web search programs. In fact, Yahoo bought the one it uses, rather than developing its own. Rest assured, we would all still be surfing the Web without Yahoo and Google. And we would have the hardware to do it too, without Intel; IBM could have chosen from many good chip vendors when it introduced the PC in 1981. Indeed, no one firm has been crucial to the tech industry in general," Matloff wrote in a 2006 blog post.
With IT companies funding political campaigns, that old maxim, "follow the money" leads to an explanation as to why the U.S. government is moving further and further toward acceding to the IT industry's lobbying efforts.
"Though the law requires H-1B holders to be paid the 'prevailing wage,' the definition of that term is filled with numerous gaping loopholes, as a 2003 Congressional report showed. Yet Congress added even further loopholes in legislation in 2004. Just think tax code, and you'll understand what I mean," Matloff wrote.
"The advocates of globalization are right about one thing: Globalization is here to stay. But their claims of its benefits are misleading, and their remedies will not work, leading only to frustration and disappointment by U.S. IT workers and missed opportunities by U.S. businesses. Genuinely thoughtful, realistic solutions to the problems are imperative," he concluded.