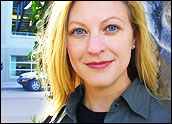 When historians look back at the Google IPO, it's likely they will judge it a huge success. That's because the search-engine company stepped out of a process that rewarded financial insiders and moved toward a more free-market approach.
Perhaps it's no surprise that the company challenging elite Wall Street authority is based in the oft-described "libertarian" Silicon Valley. Californian entrepreneurs live in a different culture from that of the east coast. One of the key differences is that instead of always trying to one-up someone at the same game, many in the golden state opt to create a brand new game. Such was the case with the IPO of Google, whose ticker symbol is GOOG.
Normally, when a company goes public, investment bankers set the price of shares for clients who have agreed to buy on opening day. This price is often lower than what the market is expected to set. Investment bankers do this because it allows them to give a safe and instant deal to their most favored customers — a process some call "free money."
But Google, the company with the slogan "don't be evil," wanted to avoid being part of this scheme, so they decided to use a different IPO model called the "Dutch auction."
Market Working
In this model, the market, not a small number of high-profile investors, sets the price. Investors small and large offered bids, and then Google chose the price where it would be able to sell the number of shares it wanted. The initial offering price was set at US$85 dollars, much lower than the suggested price range of $108 to $135 per share. The reasons for this lower price run the gamut.
Average investors balked at the higher price, and sophisticated investors complained that Google wasn't sharing enough information about its business plans. Of course, being new to the world of IPOs, Google cofounders Larry Page and Sergey Brin made some mistakes.
Their interview with Playboy magazine not long before the IPO violated U.S. Securities and Exchange Commission rules. They also failed to account for some employee stock options and were forced to offer to buy them back. But the initial price was below what many were expecting, a sign that the market was working. Investors sent a message with their bids that they thought the shares were overpriced. Then the market continued to work.
First Day of Trading
On the first day of trading, those who initially didn't bid, or who had bid too low to be included in the $85 price, jumped in to buy stock, driving up demand and therefore prices to just over $100.
Some observers have argued that the Google IPO was a failure because the company raised much less than was expected. Google initially thought it would raise $3.1 billion dollars but instead raised $1.7 billion. In a soft market, however, where most companies aren't even doing IPOs, this was a huge success.
An injection of $1.7 billion will allow Google more resources to innovate and compete in the marketplace. It should also inspire Google's competitors to work harder and smarter at creating new products and services. Both outcomes are good for consumers.
But perhaps the biggest reason Google's IPO was a success is that the company managed to push the IPO process towards a more "American" way of doing things. The idea is that everyone should have an equal opportunity to get in on the game — but of course not everyone will have an equal outcome.
America's IPO Process
Despite the initial blunders by Google's management team, Clarium Capital hedge fund manager Peter Thiel predicts that, in the long run, "nobody will remember all the problems; what they will remember is that the process worked." He's probably right, and it has the titans on Wall Street shaking in their well-heeled boots.
Investment bankers who rely on a system that favors elites and back-room deals might be unhappy at how Google's innovative IPO changed the balance of power in favor of a freer market, but there's not much they can do.
Google has set the stage for a major change in how IPOs are done, opening the door for a more rational and free-market way of allocating shares. Thanks to Google, America's IPO process is about to get more American.
---
Sonia Arrison
, a TechNewsWorld columnist, is director of Technology Studies at the California-based
Pacific Research Institute
.
---